90. Team Fortress 2
RELEASED 2007 | LAST POSITION 20
Evan Lahti: What began as a class-based FPS was transformed into a free-to-play platform for mapmaking, hats, and machinima with a horde mode, events, and a number of bird heads that you can unlock. Valve's learnings from TF2 helped transform PC gaming at large.
Phil Savage: This is the lowest TF2 has placed on our list by some margin, but that a decade-old multiplayer FPS appears at all is downright heroic. TF2 is eternal.
89. Euro Truck Simulator 2
RELEASED 2013 | LAST POSITION 82
Andy K: This makes it into our top 100 every year, with good reason. On paper it sounds boring, but there's something hypnotic about hauling goods across its beautiful recreation of Europe.
Phil: I slightly prefer American Truck Simulator's vast, desolate atmosphere, but ETS2 remains the brighter star, thanks mostly to the size and variety of its continental recreation. This is a huge, relaxing world to travel through.
88. Resident Evil 7
RELEASED 2017 | LAST POSITION New
Tim Clark: Few series live long enough to reinvent themselves successfully once, let alone a second time. But that's exactly the dark miracle Resi has pulled off—first with Resi 4, which redefined its predecessors' clunky third-person exploration into frantic crowd control, and now with this, which has breathed terrifying new life into the haunted house schtick. The switch to first-person, though obvious given the success of indie shockers like Outlast and Amnesia, still feels bold and thrilling. Much of that is down to the unhinged Baker family, each of whom must be faced in their own grand encounter, the best of which are frontloaded towards the start of the game. The generic baddies and a undercooked final act let things down, but the sense is still of a series which has, again, found its feet, even if it's still waist deep in oily viscera.
87. Kentucky Route Zero
RELEASED 2013 | LAST POSITION 100
Joe: The fact that Kentucky Route Zero has only launched four of its five chapters speaks volumes for its placing on this list. Here's a game that's yet to be finished, but rubs shoulders with the best PC gaming has to offer. Alongside its cast of idiosyncratic characters, it weaves themes of self-reflection, discovery and the supernatural into its world. Relatable vignettes and playful metaphors stand before a stylish art style. Whereas a sense of dread underpins Acts 1 through 3, KRZ's penultimate entry eschews its wider picture to focus on the minutiae of each scenario—and its Twain-esque jaunt down the river hones in on the imperfections of your dysfunctional crew. The as-yet unannounced Act 5 will mark the end of the road for Kentucky Route Zero, yet what's come before it is nothing short of wonderful.
86. Guild Wars 2
RELEASED 2012 | LAST POSITION 45
Phil: Guild Wars 2 is what happens when you take over a decade's worth of MMO wisdom and decide to do something better. What if instead of looking for quest givers who ask you to kill ten boars, you collaborated with an entire map to complete objectives that build towards a big boss monster and a chest full of loot? What if instead of being inconvenienced by low-level friends, you were rewarded for partnering up and having a good time? What if instead of paying a subscription, the base game was free? This is one of the most generous MMOs around, and ArenaNet's experimentation continues, even now. From rebuilding its central city from scratch, to releasing new story chapters, Guild Wars 2 is always building towards something new and exciting.
Tom S: Its dazzling world hosts some of the best combat in the genre. Attacks are template-based and dodging matters. I've had a blast taking on enormous bosses with my necromancer and dozens of other warriors. Its events are huge pile-ons that create amazing spectacles and a sense of community.
85. Rising Storm
RELEASED 2013 | LAST POSITION 79
Evan: It blends fragility and power better than any FPS of its kind. As a Japanese soldier on Iwo Jima, I like to smuggle a MG behind my opponents, get prone and drop as many unaware attackers as I can. Real war is unfair, and Rising Storm manages to make a fun game out of its asymmetries.
Tyler: Life in Rising Storm is 90% war movie extra and 10% leading role.
84. Terraria
RELEASED 2011 | LAST POSITION 42
Tom Marks: Like the finest wine or the smelliest cheese, Terraria keeps on getting better with age. It's staggering to look back at everything that's been added since it launched—a stream of updates has introduced over 3,000 items, new biomes, bosses and countless other improvements. It's dense with exciting things to do and discover, and there's sure to be even more by this time next year.
83. Darkest Dungeon
RELEASED 2016 | LAST POSITION 53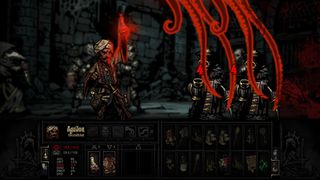 Evan: As you lose men to madness, syphilis, heart attacks, vampiric blood thirst or other maladies, you'll come to the realisation that you shouldn't treat your adventurers as precious assets to be cared for, but as batteries in the shape of men. That gives the game a different emotional texture: you're not a faithful commander, you're a brutal middle-manager. I love its artistic cohesion and the genius use of a single, ominous narrator (Wayne June) throughout the game to set the mood and speak for the characters, enemies, and the dungeon-as-character.
82. Cities: Skylines
RELEASED 2015 | LAST POSITION 89
Fraser: Why is building roads so compelling? There's a lot going on in Cities: Skylines, Colossal Order's city builder, but getting the teeming masses to their destinations scratches an itch like nothing else. I'm diversifying into blimps now. Seeing my citizens politely queueing up in their thousands to take to the skies makes me a happy mayor. Sure, I had to bulldoze a school to make room for one of the stations, but now all the children are being educated by floating billboards.
Phil: Fraser's populace is doing a lot better than the occupants of my last town, many of whom died after a sewage disaster. But when I'm not battling a tide of brown water, I love the degree of fine-tuning that Cities: Skylines supports. The zoning system is inspired—enabling experimentation by letting you earmark a part of your town for farming, nightlife or legal pot use.
81. Killing Floor 2
RELEASED 2016 | LAST POSITION New
Evan: Flick an RPG into a crowd of zeds and watch intestines, bile, and whole torsos vomit out the blast radius. It's zombie bowling made by gun nerds, with gaming's best slow-motion inviting you to savour every frame.
Hannah Dwan: Is there a game that makes tearing apart monstrosities as fun as Killing Floor 2? It's the best and most surprisingly diverse horde mode anyone's ever made.