5. Portal 2
RELEASED 2011 | LAST POSITION 28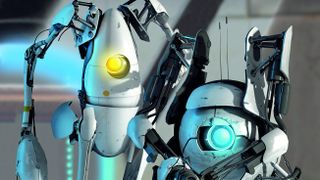 Andy K: A game so good you wonder how Valve pulled it off. Everything in Portal 2 is pitch perfect, from the design of the puzzles, to the voice acting, to the journey through the various periods of Aperture Science's history. Stephen Merchant is superb as twitchy robot Wheatley, but it's JK Simmons as Aperture founder Cave Johnson who gets the biggest laughs. However, as funny as it is, there's also a dark streak, particularly the sinister backstory of how GLaDOS came to be. Portal 2 excels as a puzzle game, a comedy, and a piece of evocative science fiction, and represents Valve at the absolute peak of its craft.
Tom S: Funny games are so novel now, and Portal 2's sense of humour has not grown old. I enjoyed the magic paint puzzles and flying through the air in Portal 2's large testing chambers, but the puzzles never felt as new and exciting as the original. Those moments instead appeared in Portal 2's superb co-op mode. GLaDOS' taunts you and your partner and plays you off against each other in a hilarious struggle of power and wit.
Phil: The main story isn't as pure a puzzle game as the original Portal, but it makes up for it with its comedy craft. I can't say for sure, but I'm convinced that the achievement notification for 'The Part Where He Kills You' was fine-tuned to pop at the funniest possible moment. But even away from Valve's mastery, Portal 2 is significant for its community contributions, and the thousands of new puzzles and campaigns available through the Steam Workshop.
4. XCOM 2
RELEASED 2016 | LAST POSITION 19
Tom S: Turn-based strategy games are rarely capable of generating the drama of an XCOM 2 campaign. In fact, few games of any genre are. XCOM 2 recasts the XCOM project as a plucky resistance outfit, raising the stakes and bringing even more tension to the campaign. When you're securing funds and personnel it feels like a survival game. When you're ambushing aliens and clearing buildings in one violent turn, it feels like a power trip. Excellent soldier customisation and exciting upgrade trees mesh nicely with XCOM's slightly cartoon presentation, but it's the war stories that stand out – that time an alien murdered your star sniper or that time a ranger chopped their way to the extraction zone. XCOM 2's soldiers really matter. That means the lows can be harrowing, but the highs are sensational.
Joe: I've sunk more hours into XCOM 2 than I care to admit, but let me tell you a secret: I'm not that good at it. Which speaks volumes for the game itself, as one which whips my backside yet has me continually coming back for more.
3. Dishonored 2
RELEASED 2016 | LAST POSITION New
Andy K: I didn't think Arkane could top the first game, but here we are. Dishonored 2 is one of the most beautifully designed stealth games on PC, with systems that allow for a huge amount of creative expression. Countless ways to combine your powers punctuate every moment of play with a feeling that you're in control, making your own mark on the world, rather than playing how the developer wants you to. And Karnaca is a stunning setting, with an organic, hand-crafted feel that few games manage.
Joe: Mixing and matching melee skills, conventional weapons and supernatural abilities when offing enemies is where Dishonored 2 shines. Harder working players than me will tell you it's best played in stealth mode, where you slide your way around its wonderful settings, but I prefer bloodshed. And little excites me more than having Emily match multiple foes with a four-link Domino blast, before taking her enemy troupe down simultaneously with one incendiary crossbolt bolt to the head. Nice.
Phil: As a sandbox of emergent systems, Dishonored 2 is without equal. That applies not just to the action, but also to how the world reacts in response to your choices within the story. Take, for instance, A Crack In The Slab. It's a fantastic level with a clever time-skip gimmick, and it features a potential outcome that beautifully rewards your curiosity and initiative. Dishonored 2 is a frequent showcase of Arkane's talent for anticipating a player's actions.
2. Dark Souls
RELEASED 2012 | LAST POSITION No change
Joe: What can be said about FromSoftware's infamous action roleplayer Dark Souls that hasn't already been discussed? Probably nothing, which means you can add me to its loyal horde of sun-praising worshipers who get turned on by its difficulty, swear by its intricate and not-at-all ambiguous lore, and bend the ear of anyone who'll still listen to us harping on about its really rather fantastic level design. I've genuinely lost count of the number of times I've returned to Lordran, and have steadily upped my trip tally to Dark Souls II's Drangleic, and the series' third (and supposedly final) entry's Lothric since it landed last year. It's been five years since the first Dark Souls debuted on PC, and you can bet your humanity it'll be on this list five years from now.
James: Dark Souls is easier to recommend on PC than ever thanks to the tireless efforts of modders throughout the years. With DSfix you can play it at just about any resolution with high-res textures (or just Shrek on everything). Dark Souls Mouse Fix makes mouse-and-keyboard play a legitimate control method. Item location randomisers make it an infinitely replayable roguelike. And mods such as the Shovel Knight armour or the fidget spinner weapon skin show the game's got a near infinite extended life after launch. Dark Souls' reputation began as a difficult, punishing game. On the PC, it's evolved to become whatever you want it to be.
Tom S: In terms of combat, weapons, enemies, Dark Souls III is a more consistent game. Yet I would still recommend the original Dark Souls over its sequels because the stories you tease out of the stonework and item descriptions are more powerful by far. A lot of games tell you that you're a hero in a cursed worlds, but with every death and rebirth, Dark Souls does a fantastic job in making you feel it.
For all its brilliance Dark Souls is a thoroughly inaccessible game that is actively hostile to new players. For a long time I read the praise for Dark Souls with a degree of cynicism, assuming that membership of the exclusive Dark Souls lovers club was the main appeal. Now I am one of those members. It's a gruelling and memorable combat roleplaying game that is has kept its singular identity, even as more and more games start to copy the formula. I could go on (and on), but perhaps the best praise I could give is to say that, all these years after release, Dark Souls is still worth wanking on about.
1. The Witcher 3: Wild Hunt
RELEASED 2015 | LAST POSITION No change
Andy K: No game makes me feel like I'm on an adventure as much as The Witcher 3. It's when I'm riding my horse through the wilderness with no specific goal in mind, seeing what quests I stumble into, that I love it the most. Geralt as a wandering samurai, rather than someone trying to save the world. And it helps that almost every quest you find has something interesting about it. I wouldn't go so far as to say every sidequest is meaningful, but it comes damn close. There's always some nice little twist in the story, or a weird new monster to fight, and the writing is consistently excellent. I'll never forget the first time I landed on Skellige and rode through those snowy mountains. It's a breathtaking place, with its own rich history, culture, and politics, which you can choose to get involved in. Or you can just get on your horse and see where the freezing winds take you.
Phil: In some ways, The Witcher 3 is similar to those Ubisoft-style open worlds in which you clear a map of its hundreds and hundreds of icons. But while many open world games trade on emergent systems that support rote (albeit entertaining) interactions, The Witcher 3's best icons lead to stories of interesting characters trying to make their way in a dark, gruelling world. Every main quest, every sidestory, every monster contract, every treasure hunt – they all help build up the richness and texture of this vast, fascinating world. It helps that you view all of this through the lens of Geralt, one of the most likeable protagonists around. He knows his place in this world, and guides you through it with a gruff, world-weary affability. Elsewhere on this list you'll find games with better combat, or more intricate RPG systems, or even a more consistently gripping story. But there's a reason The Witcher 3 has been named our best game for two years running. It works to create an unforgettable, unforgiving atmosphere, and casts you as a singularly capable problem solver – not good, not evil, just the right man for the job.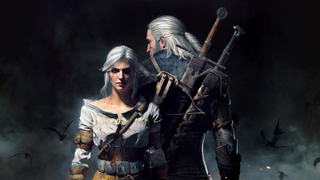 Tom S: When I started playing Baldur's Gate and other RPGs I dreamed of the game that would let me live in the fantasy books I loved. The Witcher 3 comes closer than any other to delivering the scale and spectacle of a quality dark fantasy novel. It's gritty and dark in places, like the swamp of Crookback Bog, but wide and open in others. It was a rush to take a little boat away from the mainland and see the mountains of Skellige grow on the horizon. Every island there has a story – a rogue giant here, a tormented werewolf there. It's derivative in many ways, but in this case production values really matter, and The Witcher 3 is way ahead. Great characters, great stories and cool monsters.
Steven: One of the best aspects of The Witcher 3 has always been landscape. Velen, for example, is little more than rolling grasslands, forests, and swamps, and lesser RPGs would combine those biomes to make something functional but forgettable. But The Witcher 3 has an incredible grasp on how to design environments – the way a road winds through a copse of trees swaying in an evening breeze that you can almost feel. Books are brilliant because their worlds leap to life in our minds as we read them, but I don't think I could ever imagine a world as vivid as the Northern Kingdoms.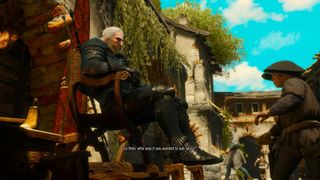 Shaun: As a games enthusiast who vehemently mashes the skip button on cutscenes, The Witcher 3 stands as one of only a few games in which I play for the story. Even on a second and third playthrough, I've got an eye out for tiny nuances in the world's characters that I might have missed previously. The Witcher 3 is remarkable for this reason, at least as far as I'm concerned: it's able to transfix both a fantasy and videogame story naysayer. And I can't even watch
an episode of Game of Thrones without idly scrolling through the PC Gamer Discord channel.
Andy K: And we haven't even mentioned the expansions! I think I love Blood and Wine even more than the main game, which thrusts Geralt into a world of pageantry, chivalry, and knightly pompousness. Placing the grizzled, weary Witcher into a colourful fairytale land is a great concept, and seeing evil creep into this idyllic setting makes for a fascinating contrast. It's 20 hours of fantastic quests, more great writing, and an absolutely stunning setting. Toussaint is all golden fields, sleepy villages, and vineyards, with a gleaming white castle at the centre of it all, and it feels completely different to anywhere in the Northern Kingdoms. And while not as dramatic a change in tone, the other expansion, Hearts of Stone, is a superb chunk of new story with a strong villain and some memorable quests. So with the main game plus the expansions, you're looking at hundreds of hours of the finest roleplaying on PC. CD Projekt Red has set a new benchmark for RPG design that other developers will have to work extremely hard to beat.