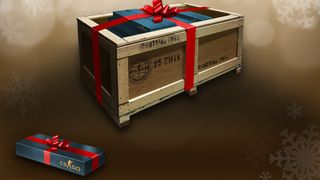 It's the season of giving
Do you hear them ringing? No, not the bells on Inferno as impatient Terrorists shoot them during the warm-up round, it's jingle bells, for Christmas is here, in Counter-Strike land! Yes, it's a time for giving, receiving and escaping to various online refuges from saccharine family reunions. In the spirit of such a holiday, we've lined up another Christmas staple, a guide full of gifts that cover every conceivable archetype of friends and family members whose names are left unchecked on that big list of presents you've still to buy. It's a little close to Christmas Eve, so braving the town centre is a fool's errand, smarter to go with a digital option. And what better way to prove how well you know someone than to pick out the perfect paintjob to cover their murderstick of choice with CS:GO's extensive collection of skins.
Image credits: Steam Workshop/CSGOxchange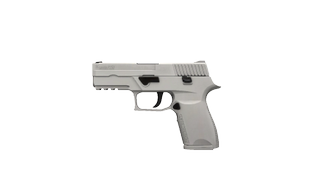 P250 | Whiteout
For the minimalist you know who insists on turning off all the fancy particle effects and sleeping on a futon, this pure white version of the CT pistol is sure to go down well. Perhaps during moments before a clutch play they can inspect their new skin and meditate on the wisdom of painting a tool of death, so prone to being dirtied, pure white. Or perhaps they will take this zen moment to wonder why they only have a P250 if they're the last one alive and where it all went so wrong this round. Either way, the price of peace of mind is just $1.66 (£1.12) for Battle-Scarred but for that flawless pure-white finish, it'll be $138.19 (£93.25).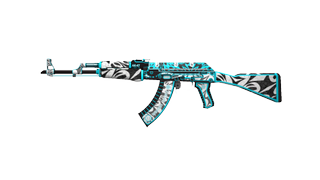 Tec-9 | Avalanche (or AK-47 | Frontside Misty)
For the extreme winter sports enthusiast there are a plethora of choices; two in fact! If they're more into their basecamps and Everest documentaries, then perhaps the Avalanche skin for the T-side Tec-9 machine pistol is the better option at $1.50 (£1.02) for Battle-Scarred and $7.62 (£5.14) for Factory New. If they're into non-nonsensical trick nomenclature and calling everyone "dudebro" then this striking AK-47 skin is the superior choice for $6.27 (£4.89) for Battle-Scarred and $33.00 (£22.59) for Factory New. Of course, either are perfectly adequate for anyone left wanting for the icy whites, blues and yellows of a freshly fallen blanket of snow as a result of our own Counter-Strike: Global Warming.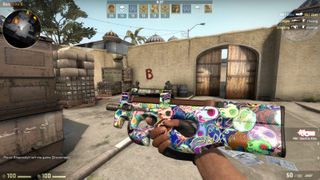 P90 | Death By Kitty
This is not just for that Japanophile friend you have, any pop art aficionados will appreciate the confusing array of stickers and cartoon icons splashed across this Belgian Personal Defence Weapon. Much in the manner in which the P90 is intended to be used, the spray and pray approach to firearm decoration isn't to everyone's tastes, but for fans of sticker culture and a very specific commercial district of Tokyo, this is a must at $22.51 (£15.19) for Field-Tested and $39.99 (£26.98) Minimal Wear. Just don't mention Sanrio's most popular character, no-one wants a lawsuit for Christmas.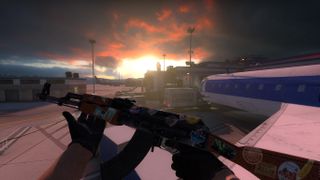 AK-47 | Jet Set
For the traveler you know. Certain stringent, some may so overly-cautious, regulations stop international jet-setters from taking their AK-47 with them on round-the-world sojourns these days. Give them back this god-given right with the Jet Set skin this Christmas, with travel stickers from such exotic destinations as "Oxnard" and "Payette, Idaho". A first-class ticket from just $20.02 (£13.50) Battle-Scarred, $146.89 (£99.12) Factory New.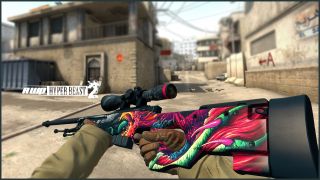 AWP | Hyper Beast
For the friend who has everything, the Hyper Beast awaits. One of the most garish skins one one of the most powerful guns in the game, it's obvious why this skin would be so expensive. But, for your money you will be earning your friend not only respect, but also probably aiming prowess. As their target catches sight of them in their own scope, they are dazzled for a moment by the brilliance of this skin. "Is...is that a dra-" the final words that struggle through their minds before your own bullet wipes them away. This advantage for a mere $12.66 (£8.80) but the Factory New finish is guaranteed to surprise for $62.57 (£42.41).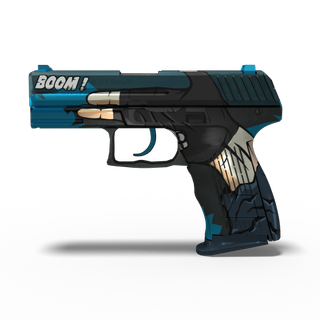 P2000 | Handgun
You'll occasionally see that one friend who refuses to let Team Fortress 2 sit idle in their Steam library. Every day, comes the pop-up notification that they're back on the grind in what surely must be a dwindling server population. Try to coax them away to join you in the lush, verdant pastures of CS:GO with a facsimile of Heavy's famous finger taunt. Alternatively: for that one guy in the office who always gives you the finger guns when asking about those TPS reports. Though $0.31 (£0.20) Battle-Scarred or $1.85 (£1.24) Factory New might be too steep to spend on that jerk.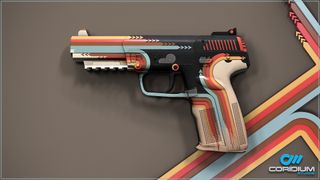 Five-seveN | Retrobution
Speaking of not letting old dogs lie, this is the perfect skin for the retro gaming hipster in your life. Perhaps they weren't even around when the 2600 was still relevant, but they sure do love beige things with swooping red, yellow and orange tricolore graphics. Give them the idealised fantasy of the past without all the inconveniences associated with it with this Five-seveN skin for just $0.81 (£0.55) Battle-Scarred up to $4.46 (£3.13) Factory New.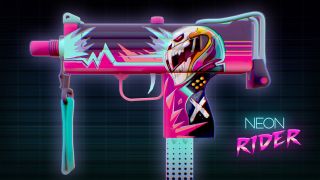 Mac-10 | Neon Rider
If your time-travelling friend prefers to appropriate cultures from a little later than the 1970s, then this Mac-10 skin is perfect for any '80s kids. Just look at those colours – not for too long though, you want to still be able to see to play the game. This skin is sure to go just perfectly with their magenta custom crosshair colour, Hotline Miami music kits and rampant capitalism! Theirs for just $2.22 (£1.49) Well-Worn to $5.95 (£4.10) Factory New.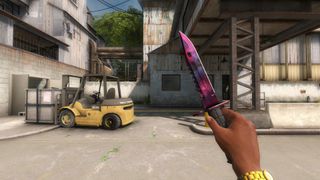 M9 Bayonet | Doppler
For that very special astro-nut in your life. Why buy them a high-powered telescope to stare into the murky depths of the cosmos when they can spend hours inspecting their shiny new knife. Get lost in the deep purples, blues and reds of some sort of nebula, maybe, and at the same time announce to everyone on the server: someone cares about me. They sure do if they're dropping $326.44 (£220.28) on you, buddy. They sure do.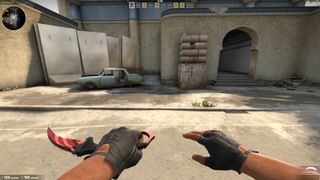 Karambit | Slaughter
You can't spell 'Christmas laughter' without 'Slaughter', or so you'll explain to your now worried recipient. Their first reaction, however, should be pure glee as the deep festive reds of this south-east Asian curved blade glint upon a Christmas morn. Save this for a loved one, or very good accountant, as the eye-watering $369.96 (£249.65) Field-Tested to $407.61 (£275.06) Minimal Wear pricetag could turn that laughter to sobs in the post-holidays struggle.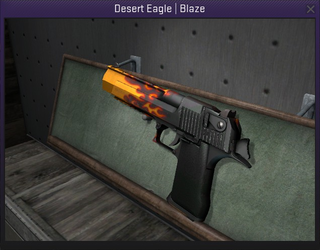 Desert Eagle | Blaze
For the budding esports superstar, this is the must-have skin. Prices have risen a fair bit from the start of the year after three separate incidents during the summer resulted in players aceing, or otherwise clutching out a round with this pistol and skin equipped. The most famous of these, Happy's Juan Deag Meltdown at London's DreamHack competition, should inspire its future owner towards greatness. Only $35 (£24), until someone else wipes another team with it.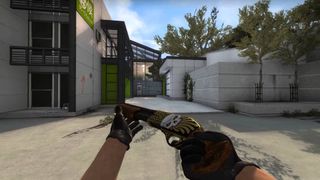 Sawed-Off | Yorick
For the literature buff and Shakespeare enthusiast in the family, this short-barrel shotgun should be all they desire. Allowing them to take revenge on team-killers while acting out in character, this skin gives the enviable opportunity to deliver great one-liners like "Alas, poor xXx420BongLordxXx, I knew him well" before blowing the enemy away. Tony-award-winning acting for the budget price of $0.13 (£0.08) Battle-Scarred or $0.48 (£0.32) if you push the boat out to Factory New.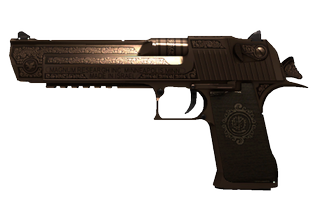 Desert Eagle | Corinthian
For those looking to return to the more traditional values of Christmas comes this Desert Eagle skin. Based on something from the bible and mutated by pagan rituals into a symbol of commercialism in the Western world, this skin is sure to make your recipient think. There's no need to break the bank for these revelations either, as it'll only cost you $0.46 (£0.31) for Well-Worn or $0.70 (£0.47) for Factory New and your immortal soul.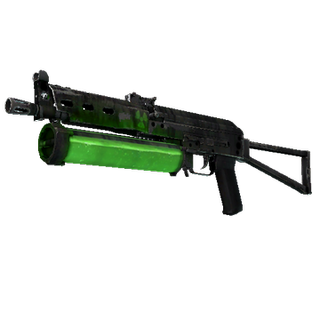 PP-Bizon | Fuel Rod
For the terrorist who doesn't know what they want this Christmas. The PP-Bizon with an underslung spent nuclear fuel rod gives them the option of wiping out the enemy in a firefight or a dirty bomb explosion. Y'know, just like how the rules of a competitive Counter-Strike match go. Perhaps seen as a little distasteful to some, so best to keep this for close friends. No harming the economy with this purchase either, at a paltry $0.80 (£0.53) Battle-Scarred and $4.33 (£2.92) Factory New.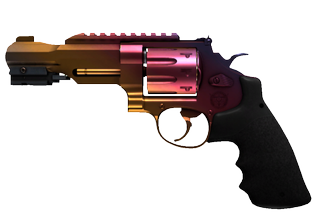 R8 Revolver | Fade
If you hate your frenemy and want others to hate them just as much as you do then give them a reason to use CS:GO's most recent addition. The R8's initial introduction to the game rendered it mostly unplayable, as the developers decided a handgun that does as much damage as an AWP over the same distances for a fraction of the price was a good idea. Make your friend a constant reminder of this stressful period by giving them every excuse to use the revolver with a nice chromatic fade skin, for only $13.35 (£9.00) Well-Worn or $26.06 (£17.58) Factory New.