2020 PC games without firm release dates
Torchlight 3
2020 | Echtra Games | Link | Hack-n-Slash RPG
Early in 2020, Torchlight 3 (formerly Torchlight Frontiers) emerged with a big heel-turn back to its origins. Echtra got so much feedback from alpha testers that it has renamed the third game and turned it back into a proper sequel to other Torchlight games instead of the free-to-play MMO it was planned as. You'll be able to hack-n-slash your way through the campaign online or off and buy it on Steam instead of Arc.
The Political Machine 2020
Spring 2020 | Stardock Entertainment | Link | Political simulator
The once-every-four-years political simulator is, like the U.S. elections, right around the corner. Political Machine 2020 will include democratic candidates Joe Biden, Elizabeth Warren, Bernie Sanders, and Pete Buttigieg. On the Republican side, Trump can face off against Mitt Romney and George W. Bush.
Frog Fractions: Game of the Decade Edition
"Mid to late 2020" | Twinbeard Inc | Link | Adventure?
The weird browser game from 2012 hops on, getting a new release for 2020 on Steam. The Game of the Decade Edition will, allegedly, be the same as the original. Given Frog Fractions' history though, it would be shocking if there isn't some twist buried deep inside when it launches so keep your tongues at the ready.
Hollow Knight: Silksong
TBA | Team Cherry | Link | Metroidvania
What started as DLC for Hollow Knight, starring Hornet as a playable character, apparently could not be contained. It's become a full game, a sequel to Hollow Knight, with a new setting, 150+ new enemies, a quest system, and doubtless much more. Whereas Hollow Knight was about descending deeper into the depths of Hallownest, this game will see Hornet climbing through a new kingdom to reach a peak. Team Cherry haven't mentioned a release date, but seem to be well into the game from what they've shown.
Halo: The Master Chief Collection
Ongoing | 343 Industries | Link | Shooter
Despite a disastrous launch on Xbox, the Master Chief Collection slowly became a definitive gathering of Halo games, made playable on newer hardware. It finally started coming to PC with Halo: Reach in December 2019. The rest of the Halo series will be added to the collection over time. Fingers crossed they're all on PC by the end of 2020.
Kerbal Space Program 2
2020, possibly 2021 | Star Theory | Link | Space Sim
The little green weirdos are back, this time with an easier tutorial system so you crash and burn with a little less frequency. There's also space colony building, interstellar travel, multiplayer, and continued mod support.
Microsoft Flight Simulator
2020 | Asobo | Link | Flight Sim (duh)
Asobo and Microsoft are using Bing Maps of all things to scan the known world, including Andy's hometown of Glasgow, with a scary level of detail. Live weather data will factor into flight plans, too.
Vampire: The Masquerade - Bloodlines 2
2020 | Hardsuit Labs | Link | RPG
The vampires of modern day Seattle are missing their leaders, leaving a massive power vacuum for clan leaders to fulfill. You're a newly created vampire (a "thinblood") who gets to waltz into this simmering city and the politics and clashes of its various clans. Check out everything else we know.
Crusader Kings 3
2020 | Paradox | Link | Strategy
The grand heir of strategy RPGs, the third installment will focus even more on character development and RPG elements. Read our big everything-we-know guide for more.
Godfall
2020 | Counterplay Games| Link | "Looter slasher"
Godfall is a fantasy action RPG from Gearbox Publishing and Counterplay Games, coming to PC via the Epic Game Store in 2020. The trailer gives us some deep-voiced knights and gives us a good long look at their armor—Godfall is described as a 'looter-slasher' by the devs, and players will be slashing their way toward legendary armor sets. Not much word on what the story is about yet, but hey, that's some fancy armor.
Rainbow Six Quarantine
"Next Fiscal Year" | Ubisoft Montreal| Link | 3v3 Tactical Shooter
It appears that Rainbow Six Siege's popular Outbreak mode was a sort of proof of concept, with alien zombies and some recognizable operators hunting them down. Ubisoft says of Quarantine: "What Siege is to the PvP shooter genre, we will be to PvE co-op." There's a chance this one comes out in 2021, what with Ubi's delay.
Ruined King: A League of Legends Story
TBD | Airship Syndicate| Link | RPG
Ruined King is the first singleplayer League of Legends to be announced, a turn-based RPG from Darksiders Genesis developer Airship Syndicate. The game comes after Riot announced a new publishing label, Riot Forge, which will release games set in the League universe from other developers. In Ruined King, we'll play LoL champions and explore the city of Bilgewater and the Shadow Isles.
CONV/RGENCE: A League of Legends Story
TBD | Double Stallion Games| Link | Platformer
There were not one but two singleplayer League of Legends games announced at The Game Awards. We didn't get a huge reveal of the second one, CONV/RGENCE, but we know it's a colorful singleplayer platformer developed by Double Stallion games. You'll play as Ekko, who has invented a device that can manipulate time, and face the "huge consequences" of doing so. No release date was announced, but it's coming to PC.
Fast & Furious Crossroads
2020 | Slightly Mad Studios| Link | Action
Developed by Slightly Mad Studios and published by Bandai Namco, Fast & Furious Crossroads will release on Steam in May 2020, and features fast cars, explosions, and approximations of Michelle Rodriguez and Vin Diesel themselves.
Watch Dogs Legion
"Next Fiscal Year" | Ubisoft | Link | Action RPG
Another victim of Ubi's decision to delay some key titles. You'll get to take on a fascistic government in modern-day London, and damn near anyone you meet (and their unique talents) can be recruited to the cause of overthrowing them. Will Ubi finally take a meaningful political stance? Probably not, but look! Piggy masks!
Chivalry 2
2020 | Tripwire | Link | Melee Action
Chivalry's brand of sword-swinging melee action continues, this time with 64-player brawls, horses, and a revamped combat system. Tripwire says they're aiming to make you feel like you're really in the chaos of something like the Battle of the Bastards.
Total War Saga: Troy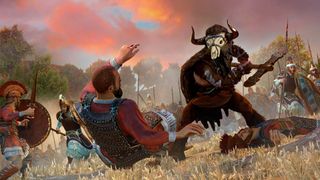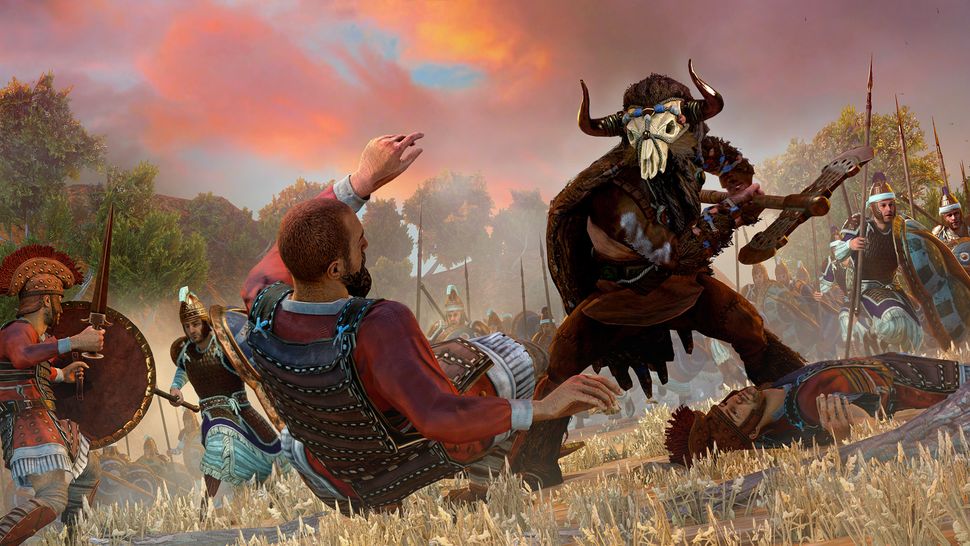 2020 | Creative Assembly | Link | Strategy
The Total War Saga games (of which this is only the second) usually focus on a very specific period of time. We've got the classic war between the Greeks and the Trojans across the Aegean, secret agents, no cavalry, and special troops designed to evoke the origins of mythic beasts, like a minotaur who's just a big dude wearing a bull's head cap. Check out everything else we know.
Gods & Monsters
2020 | Ubisoft | Link | Action RPG
The Greek gods have been defeated by some malevolent force known as Typhon, so you'll take a customizable protagonist around an open world to fight, well, monsters, while managing stamina and resources. Think Assassin's Creed with even less realism.
Humankind
2020 | Amplitude | Link | 4x Civ Sim
From the makers of Endless Legend, it's a beautiful 4x Civ-killer that seems to focus heavily on how societies build upon one another, rather than simply replacing stone structures with steel ones, and what kind of legacy each era leaves for the next. But you won't be playing a famed leader from history in Humankind: you'll create a leader of your very own. The new trailer announces the avatar creation system and shows off a bit of land and naval combat, too. Read everything we know.
Age of Empires 4
TBA (possibly after 2020) | Relic Entertainment | Link | RTS
We don't know much about AoE4, but Relic Entertainment has the necessary pedigree with Company of Heroes and Warhammer: Dawn of War franchises under their belt. It sounds like Relic is interested in making the RTS genre less complicated, and the first trailer shows off a variety of eras, including indigenous people, British redcoats, Roman legionnaires, Samurai, and others.
Little Nightmares 2
2020 | Tarsier Studios | Link | Co-Op Horror Platformer
A very creepy, remarkably... fleshy aesthetic set the original apart, and it looks like the sequel adds a new character for a friend to play as.
Desperados 3
TBA | Mimimi Productions | Steam | Tactics
The team behind the brilliant Shadow Tactics: Blades of the Shogun take their tactical selves to the wild west. You've got another ragtag group of uniquely skilled fighters shooting, abducting, stealthing, and apparently even mind controlling their way across dusty one-street towns. Check out Phil's preview.
12 Minutes
2020 | Nomada | Link | Narrative Mystery
A husband is enjoying a romantic night with his wife, until suddenly a cop shows up at their door, accuses her of murder, and beats him to death, only to wake up and relive the same 12 minutes over and over again.
Disintegration
2020 | V1 Interactive | Link | FPS
From Halo co-creator Marcus Lehto, Disintegration blends FPS mechanics with a slower RTS mentality. Player-controlled pilots take over a hovering "gravcycle" while AI soldiers shoot it out on the ground.
Destroy All Humans! Remake
2020 | Black Forest | Link | Action Adventure
Crypto is back to, you know, destroy all humans. Drive the alien's flying saucer, probe some lifeforms, smash every quaint piece of 1950's America, and listen to some dope Rammstein apparently.
N1RV-ANN-A
2020 | Sukeban Games | Link | Visual Novel
A sequel to VA-11 HALL-A, N1RV-Ann-A returns to the cyberpunk world of drink slinging, all from the POV of a new bartender (and single mother?) named Sam. I love the first game's writing, so fingers crossed for more talking shibas.
Oddworld Soulstorm
2020 | Oddworld Inhabitants | Link | Platformer Adventure
Abe is back, and Soulstorm asks "what if Oddworld infused a classic platformer with a dash of Deus Ex," and threw in a deep crafting system to boot. Soulstorm itself is a sort of second chance for creator Lorne Lanning to do Abe's Exxodus right, considering the original had to be shoved out in nine months.
Roller Champions
2020 | Ubisoft | Link | Sports Action
It's 3v3 roller derby, where you fight for control over a ball while doing laps, with an arcadey twist. It made Phil feel like an asshole, so you know it's good.
Eastward
TBA | Pixpil | Link | Adventure RPG
Eastward is a throwback to classic RPGs of yore, with plenty of modern flair. A miner discovers a...minor deep underground, and they're off to solve why the planet is being besieged by big mechanical baddies. It wears the Akira/Macross/Studio Ghibli inspirations on its sleeve.
LEGO Star Wars: The Skywalker Saga
2020 | TT Games | Link | Action Platformer
Can they make these things any bigger? This new LEGO game covers all nine films, including Rise of Skywalker, so you can only imagine the NDAs those folks have had to sign.
Tales of Arise
2020 | Bandai Namco | Link | Action-RPG
The latest entry in the long-running "Tales of" JRPG franchise, Arise features two protagonists on an adventure about "inheritance and evolution." They've definitely upped their game in terms of animation and world design.
Way to the Woods
2020 | Anthony Tan | Link | Adventure
A seemingly magical deer and her fawn navigate through a serene post-humanity world, using light to solve puzzles and defeat a mysterious black ooze.
Tunic
TBA | Andrew Shouldice | Link | Action adventure
Formerly known as "Secret Legend," Tunic evokes the charm and beauty of The Legend of Zelda, all wrapped up in a beautifully fluid cel-shaded art style. Challenging combat demands plenty of dodge-rolling and pits you against huge bosses.
Evil Genius 2
2020 | Rebellion | Link | Sim Strategy
Build a bad guy lair, recruit specialists to help you take over the world, and maybe build a doomsday device or two. Spies will try to throw a wrench into the process, so manage your crew's morale, or maybe invest in a little brainwashing.
No Straight Roads
2020 | Metronomik | Link | Musical Hack-n-Slash
From Final Fantasy 15 lead designer Wan Hazmer, you control a rock band fighting against EDM-loving baddies. Combat is all timed to the music, which shifts between genres like classical piano and house DJs. Just leave drum 'n' bass alone, you monsters.
Due Process
TBD | Giant Enemy Crab | Link | Tactics FPS
A mix of SWAT and Rainbow Six Siege, two teams will plan a classic breach-and-clear scenario using a top-down procedurally generated map you can actually draw on, like a more badass John Madden. Then you'll all go into FPS mode and, one hopes, execute said plan (and each other) perfectly.
Get in the Car, Loser
2020 | Love Conquers All Games | Link | Visual Novel/RPG
From the co-creator of Ladykiller in a Bind, this visual novel/RPG is all about a lesbian roadtrip to destroy a growing horde of cultist edgelords, and being a "useless gay disaster."
Carrion
2020 | Phobia | Link | Reverse-Horror Metroidvania
In Carrion, you are the monster inside the walls, an increasingly bigger pile of fleshy tentacles hellbent on escaping from a research facility. You can also make yourself smaller to solve puzzles. Fleshy, fleshy puzzles.
Ooblets
2020 | Glumberland | Link | Farm sim/monster collector
It's impossible to describe everything Ooblets is in one blurb, save for that it looks immensely charming, and you get to collect little Pokemon-esque creatures to chill with on your farm.
Yes, Your Grace
Early 2020 | Brave at Night | Link | Kingdom Management
Being king is a busy gig, and you'll learn it firsthand as you hear the cries for help of your subjects, tend to family drama, and organize warriors, all from the comfort of your cushy throne.
Battletoads
TBA | DLaLa Studios | Link | Action
The amphibious beat-em-up is back, and well, we asked for it. Thankfully some modern touches are being applied to the toads, including 4K, hand drawn graphics, three-player couch co-op, and "body-morphing genre mash-ups." We don't know for sure if it's coming to PC, but given Microsoft's "ecosystem" policy, it's a likely bet. We don't have an exact release date and haven't really heard much since its announcement, but we also wouldn't be surprised if this one dropped suddenly.
Solar Ash Kingdom
TBA | Heart Machine | Link | Action Adventure
It looks like the team behind the moody and colorful Hyperlight Drifter are staying firmly in that style, but this time in 3D. Details are sparse, but we can apparently expect to fight huge monsters and slide around a bunch.
Biomutant
2020? | Experiment 101 | Link | Action RPG
This very peculiar looking action-RPG mashes up martial arts, gun-fu, and plenty of anthropomorphic beasts to take down, all with a bit of DMC flair. The ability to infuse your little warrior with the genes of other beasts along the way means Soul Calibur 6's wacky character creator might get a run for its money.
Babylon's Fall
2020? | Platinum Games | Link | Action
The next big thing from the Bayonetta and Nier: Automata developer, supposedly. Babylon's Fall's trailer teased a big ol' timeline full of something called an Oversoul, the Age of Dawn, a World War, and the birth of a goddess. Then there's a bunch of futuristic knights wailing on a big baddie before posing in front of a huge cathedral. Subtle, thy name is Platinum. Square Enix debuted the new trailer above after a lengthy silence to assure us that we'd get more info on the game during the summer of 2020.
Spelunky 2
2020? | Mossmouth | Link | Roguelike platformer
In the sequel to our 2013 GOTY, you'll be playing as the Spelunker's daughter and exploring the moon. In Summer 2018, we got a look at the game in action—glance at the trailer above for an idea of what's coming. Originally scheduled for 2019, developer Derek Yu and his team is still working away on Spelunky 2. Hopefully it's out in 2020.
The Pathless
2020? | Giant Squid | Link | Action adventure
The team behind Abzu is whipping up this blend of Princess Mononoke and Journey, which makes sense given that Giant Squid's founder was the latter's art director. As a veiled huntress, accompanied by a friendly eagle, you'll traverse a seemingly endless forest filled with ruins, puzzles, and massive beasts of fire and light.
Boyfriend Dungeon
"When weapons are beautiful enough"| Kitfox Games | Link | RPG/dating sim
Some people want to date dudes, some love the ladies, others adore cats (no judgment), and some folks just love a good katana sword. Boyfriend Dungeon says "why not all of them in one?" in what KitFox is calling a "shack-n-slash." Brilliant.
Kunai
TBA | The Arcade Crew | Link | Metroidvania
Tabby is a side-scrolling ninja who also happens to be a living tablet. Like... an iPad tablet. Tabby gets the power to pull of some sick ninja stunts while hack-and-slashing his way through a washed out retro-looking world at breakneck speed. I'm particularly a fan of that rockin' chiptune soundtrack.
Scavengers
2020? | Panache Digital Games | Link | Survival shooter
'Co-opetition' is the awkard buzzword in this competitive shooter that blends PvE and PvP. Team up with buddies to scrounge for resources on a hostile, snowy planet, but make it back to your space station before a storm swallows you up, or other enemy teams kill you and take all the credit. You can read James' hands-on thoughts here.
Young Souls
TBA | 1P2P | Link | Co-op dungeon crawler
After a ginger-haired pair of siblings are transported to another realm, they'll slash and combo their way through hordes of evil monsters and upgrade gear in a pretty dang gorgeous mix of 2D and 3D graphics. The FLCL fanboy in me always loves a good Vespa scooter.
The Stanley Parable: Ultra Deluxe
2019 |Galactic Cafe | Link | Adventure
I could listen to the Stanley Parable narrator read a phonebook, but I never expected a full update. Galactic Cafe is celebrating a console port by adding new choices and new endings on top of the original classic.
Werewolf: The Apocalypse—Earthblood
TBA | Cyanide Studio | Link | Action-RPG
We're officially getting Vampire: The Masquerade - Bloodlines 2, but the World of Darkness franchise is setting out to explore its considerably more hairy side. There's little more than an announcement to go on, but developer Cyanide Studio (Styx, Call of Cthulhu) has said it'll explore the "shamanistic and tribal world" of the Garou (French for "werewolf") as they battle the forces of The Wyrm. Werewolf will be an RPG, but with Cyanide's history of creating bike racing management sims and Warhammer football games, who knows exactly what it'll play like?
The Forgotten City
Late 2020 | Modern Storyteller | Link | Adventure
The Forgotten City started life as a Skyrim mod, and it was really, really good. So good in fact that it's getting a standalone remake. After you stumble upon an ancient Greek city, you discover 26 trapped explorers perished because one of them broke a mysterious law, and it's up to you to travel back and forth through time to influence events to something less deadly. It's now expected in late 2020 after being delayed at the end of 2019.
Jet Lancer
2020 | Vladimir Fedyushkin & Nicolai Danielsen | Link | Bullet Hell
An aerial dogfighting game with bullet hell mechanics, giant spider/octopus mechs, and a single-player campaign. Looks like a good choice for anyone who loves busy screens.
VirtuaVerse
2020 | Theta Division | Link | Point & Click Adventure
A trippy cyberpunk point-and-click adventure. There's a smuggler who refuses to live on the grid, a kidnapped girlfriend, and AR technomancers. Also features a red hot metal/chiptune/synth soundtrack from Master Boot Record.
Haven
2020 | The Game Bakers | Link | RPG
Two lovers escape to a lost planet, fend for their lives against monsters in turn-based combat, and explore some gorgeous landscapes. The developer seems to imply this will be a good one to play with a partner, on account of all the hugging, I assume.
The Artful Escape
2020 | Beethoven & Dinosaur | Link | Musical Adventure
It's 1972 and young Francis Vendetti must use his guitar prodigy skills to battle with a dead folk legend, and whatever else his warped brain can come up with, on a trippy adventure through time, space, and guitar solos.
Humanity
2020 | Enhance | Link | Puzzle
Humanity itself is the puzzle, and you're guiding the little lemmings through all manner of environmental puzzles, including some where darkened versions of humanity fight back. Commentary? Maybe. Puzzler with a very unique sense of art direction that's sure to play havoc with lesser PCs? Definitely.
Medal of Honor: Above and Beyond
2020 | Respawn Entertainment | Link | VR FPS
Respawn, of all teams, is diving into VR through the Medal of Honor franchise. Shoot and explode Nazis across 50 different short levels, catch grenades and chuck them back, or infiltrate a German U-boat. It looks like Respawn will have lots of fun little diversions and scenarios to break up the usual WWII tropes.
Among Trees
2020? | FJRD Games | Steam | Survival/adventure
Think The Lone Dark, but much, much prettier and calmer. Instead of constant existential dread, there's a gorgeous "survival sandbox" teeming with plants and wildlife, only some of which we presume will want to kill you. It's releasing as early access first.
Gears Tactics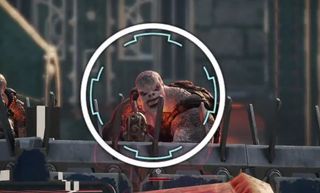 TBA | Splash Damage | Link | Tactics
This PC-only turn-based strategy game is a prequel set 12 years before the original game. Massive boss battles, you say?
Streets of Rage 4
TBA | Lizardcube, Guard Crush | Link | Beat-em up
Axel and Blaze are back to beat up some bad dudes, and looking pretty spiffy doing it, thanks to some fancy work from the artists behind Wonder Boy: The Dragon's Trap.
Serious Sam 4: Planet Badass
TBA | Croteam | Steam | FPS
Old Sam has been mostly hanging out in VR the last couple years, but he's finally returning to TV screens after seven years without a core sequel. Sam's got himself a motorcycle now, so expect some bigger shooting grounds, and tens of thousands of enemies onscreen. But Croteam says it's totally not an open-world game. Okay, then.
Windjammers 2
2020 | Dotemu | Link | Arcade/sports
We forgive you, Dave Lang. For the rest of you, if you haven't heard the gospel of Windjammers, that's fair. The original never came out on PC. It's extreme air hockey in all but name, and it's got quite the cult following.
Twin Mirror
2020 | DONTNOD | Link | Adventure
A guy named Sam is having a tough time returning to his bombed out post-industrial hometown, searching for answers to the death of journalist, and then things get even tougher. He wakes up in a motel with no memory and discovers his shirt drenched in blood, and his mind opening up some sort of rifts in reality, all in what the Life is Strange developer is calling a "story-driven investigation game." It looks like a more adult take on Life is Strange's YA trappings, for better or worse.
Sable
2020 | Shedworks | Link | Adventure
Sable wears its influences on its sleeve, including that of late French comic artist Jean 'Moebius' Giraud. A sci-fi coming of age tale (and one of our favorite things at E3), you traverse a beautifully cel-shaded desert full of ancient alien ruins, with no particular objective beyond learning more about the world and maybe solving some simple puzzles. Like all good coming-of-age stories, there's a (hovering) motorcycle to ride.
Psychonauts 2
2020 | Double Fine | Link | Adventure
Dive once again into the twisted minds of the Psychonauts in the long-awaited sequel to Double Fine's inaugural game. Characters Raz, Milla, Lili, and Sasha make their first visit to Psychonauts' headquarters, with all the psychic crime fighting it entails.
Cuphead: The Delicious Last Course
2020 | Studio MDHR | Link | Platformer
Cuphead is based on old timey cartoons, so it only makes sense that they'd introduce a gender-swapped version of their original hero. Well, actually it's the Legendary Chalice character (who you may remember from the mausoleum level), now referred to as Ms. Chalice. The DLC is also promising a new isle to fight through, new bosses, new weapons, and more, so I'm sure it will be a relaxing, serene experience for all involved.
Minecraft: Dungeons
Spring 2020 | Mojang | Link | Dungeon crawler
Dare I say it, are they making the Minecraft equivalent of Ultima Underworld? Okay, no, it's more of a classical Diablo-style hack-and-slash looter, but however it turns out, you'll be able to bring three friends along for this spin-off.
The Settlers
2020 | Ubisoft Blue Byte | Link | City sim
The Settlers series is 25 years old, and the seventh iteration came out all the way back in 2012, but Ubisoft is taking another crack at the medieval city building genre.
The Dark Pictures: Little Hope
2020 | Supermassive Games | Link | Choice-driven Horror
The next episode in Supermassive Games' The Dark Pictures anthology series is Little Hope, starring the mean guy from the first Maze Runner movie. Since the story won't be directly tied to Man of Medan, we don't know much beyond the brief teaser above. There's also no firm release date, but expect it in the first half of the year.
Circuit Superstars
2020 | Original Fire Games | Link | Remember Micro Machines?
Published by the Square Enix through their indie outfit Square Enix Collective, Circuit Superstars is a throwback to Codemasters' Micro Machines with a more realistic take and modern look. It's due sometime in 2020.
Witchbrook
"Coming soon" | Chucklefish | Link | RPG
Chucklefish is bringing pixelated life sims to a Hogwarts-like setting, where you'll work to finish wizard school, battle in the forest, and take care of magical creatures. Want some other influences to get your brain running? Chucklefish says Garth Nix's Old Kingdom, Harvest Moon, and Studio Ghibli are all incorporated. Fingers crossed for magical talking cat companions.