MMOs
Ever, Jane
Developer: Judy L. Tyrer
Publisher: Judy L. Tyrer
Release date: 2016
Link: Official Site
Not all MMOs are about combat. Ever, Jane (set in the world of Jane Austin) is about role-playing in Regency Period England. There's gossip, relationships, society, and players creating their own stories. Judy L. Tyrer, one of the developers behind Second Life, launched a successful Kickstarter in 2013, and there's a playable build for backers in advance of the finished game.
Otherland
Developer: Drago Entertainment
Publisher: Otherland Co-Production GMBH
Release date: 2016
Link: Official Site
Based on the series of novels by Tad Williams, Otherland is an cyberpunk action MMORPG taking place in a virtual multiverse that encompases medieval fantasy, science-fiction, and other worlds, each with their own visual style. Defeating enemies lets you harvest their electronic DNA to craft items or even create loyal clones. It's been in development for years and entered closed beta in 2015.
Crowfall
Developer: ArtCraft Entertainment
Publisher: ArtCraft Entertainment
Release date: 2016
Link: Official Site
Developed by some of the veterans who brought us Ultima Online and SWTOR, Crowfall is billed as a Throne War Simulator, an MMO with a focus on strategy. And, as in strategy games, you can actually win or lose in Crowfall. Campaigns may last months, but when they come to an end they're over for good, and the PvP world in which the battle was fought will be bulldozed in favor of new, procedurally generated lands. It sounds interesting, and its Kickstarter was a smash, but we're still waiting to see how it's all really going to work.
World of Warcraft: Legion
Developer: Blizzard Entertainment
Publisher: Blizzard Entertainment
Release date: September 21, 2016
Link: Official site / Amazon
Blizzard is milking the nostalgia teet for all it'll give, and smart move, I say. Warlords of Draenor hit on our old love of Orcs vs. Humans, and reimagined many players' favourite expansion, Burning Crusade, with the uncorrupted world of Draenor. Now the Burning Legion is back on Azeroth, inviting lapsed players to relive the demon-stomping good ol' days. Though many of the old guard dislike the direction Warcraft has taken these past few years, fundamental changes like the addition of class Order Halls and accompanying return of class-specific quests, coupled to quality improvements like increased draw distance, might just be enough to make Legion a landmark expansion. Plus shooting lasers from your eyes is pretty cool.
Star Citizen
Developer: Cloud Imperium Games
Publisher: Cloud Imperium Workshop
Release date: 2016
Link: Official site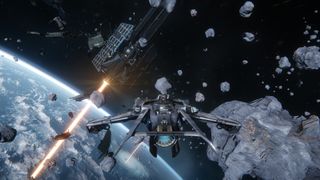 It's been a long time coming, but the crowdfunding juggernaut is inching closer and closer to release. With over $100 million in funding, star power from Mark Hamil, and a playable alpha, Star Citizen is the faraway pipe dream that is suddenly very real. This ambitious space-based MMO is a spiritual successor to the classic '90s Wing Commander series. Players will fight, fly, mine, and salvage in a persistent universe that models everything from giant crewed ships to individual marines trying to board that ship. It's incredibly ambitious, but we can't wait to see if Chris Roberts and team can pull it off.
Skyforge
Developer: Allods Team
Publisher: Obsidian Entertainment
Release date: 2016
Link: Official Site
This free-to-play MMO mashes up science-fiction (so there's cybernetic arms and guns) and ancient mythology (so there's swords and bows). It features an unusual leveling system that doesn't lock you into a specific type of character, but lets you switch between the various classes at will. As players progress, they become living gods and acquire followers. Skyforge entered open beta in summer of 2015.
Camelot Unchained
Developer: City State Entertainment
Publisher: City State Entertainment
Release date: 2016
Link: Official Site
With over $2 million in Kickstarter funds, and over a million more in pledges, Camelot Unchained got off to a good start, though it's stumbled into a few delays since. The MMO is designed to support massive battles involving hundreds of players, as well as a completely player-driven economy. It's also bent on a subscription-based model, which seems dicey in the current marketplace.
Pathfinder Online
Developer: Goblinworks
Publisher: Goblinworks
Release date: Early 2016
Link: Official Site
Another Kickstarter funded MMO, Pathfinder Online raised over $1 million way back in December of 2012. Now, roughly three years later, it's started early enrollment and expects to start open enrollment in early 2016. Pathfinder Online describes itself as a "sandbox MMO" and is based on the popular Pathfinder tabletop game. It has no grinding, no class system, player built structures, and lots more.
Nebula Online
Developer: Mizar Games
Publisher: Mizar Games
Release date: June 2, 2016
Link: Official Site
Nebula Online is an online space MMO with real-time ship battles. You control a ship as your character which can be upgraded modularly or replaced entirely, and you can dock with or build space stations throughout the universe. It will be free to play with no cash shop or ways to buy power and, like many other space games, the world's economy will be influenced by the players.
Das Tal
Developer: Fairytale Distillery
Publisher: Fairytale Distillery
Release date: 2016
Link: Official Site
Even after a failed Kickstarter campaign, Das Tal is scheduled for a 2016 release. It's described as a Sandbox PVP MMO in which the world will keep ending, only to begin again fresh and new. The game is focused primarily on PvP, with developer Fairytale Distillery saying "Pve elements in the traditional sense, like dungeons and NPCs with advanced mechanics, will be virtually non-existent." Players will affect the world and those changes won't be undone until the world restarts.