Shooters and competitive action games
Tom Clancy's The Division
Developer: Ubisoft
Publisher: Ubisoft
Release date: March 8, 2016
Link: Official Site
After a number of delays (it was announced in 2013), we're hoping third-person shooter The Division will finally stick to its guns and appear this March. Set in New York after a biological terrorist attack, players team up in small groups battling A.I. enemies as well as other groups of players as they try to reestablish order among the chaos. Early gameplay footage has shown players not just working together, but also betraying one another.
Doom
Developer: id Software
Publisher: Bethesda
Release date: Early 2016
Link: Official Site / Amazon
The Doom reboot, or remake, or reimagining, or whatever re-word you want to attribute to it, has been in the works for years, including a lengthy detour to completely change the direction of its development to focus on what made the original great— fast action and big guns. We enjoyed our taste of multiplayer, and SnapMap, the built-in map and mod-making utility, feels promising. We're looking forward to seeing if the single-player campaign can somehow live up to one of the most influential shooters of all time.
Overwatch
Developer: Blizzard Entertainment
Publisher: Blizzard Entertainment
Release date: June 21 2016 (at the latest)
Link: Official site / Amazon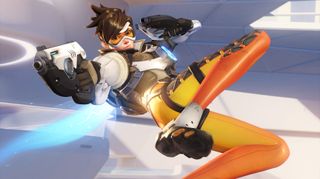 The first new franchise from Blizzard since the creation of Warcraft 17 years ago, Overwatch is an objective-based FPS set in the not so distant future. It's six-on-six with one team on offense and the other on defense, but the core of Overwatch's gameplay is the different characters—each with their own weapon and abilities. Heroes can be swapped at any time during a match, making team-synergy and counter-picking an important part of success. While the game will launch with 21 characters, Blizzard has announced that any heroes or levels added after launch will be patched in completely free.
EVE: Valkyrie
Developer: CCP Games
Publisher: CCP Games
Release date: Q1 2016
Link: Official site
This space combat game from EVE Online creators CCP Games will be bundled with new Oculus Rifts, making it one of the flagship VR games for next year. Set in the same universe as the MMO, it sees you taking part in intense dogfights in a variety of spacecraft. With simple controls and accessible design, it's the perfect introduction to virtual reality, and the feeling of 'being' there, in the thick of those space battles, is really powerful.
Ghost in the Shell: Stand Alone Complex - First Assault Online
Developer: Neople
Publisher: Nexon
Release date: Out now
Link: Official site
10 years after the second season of the fantastic Ghost in the Shell: Stand Alone Complex anime, Neople has turned the cyberpunk police procedural into a cyberpunk first-person shooter. We would've gone with a stealth game, but it's fine to see Section 9's characters in a game, and actually playing as Major Kusanagi or Batou? That's worth giving a F2P shooter a shot. First Assault Online launched into Early Access in December 2015 for $5 / £4, but will eventually go free. Our first impressions were decent: the shooting feels fairly generic, but we especially liked a gimmick that lets you borrow teammates' special abilities (thermoptic camo, seeing through walls) if you're nearby, which encourages teamwork.
Paragon
Developer: Epic Games
Publisher: Epic Games
Release date: 2016
Link: Official site
After a period of teasing various contextless pictures of men with guns, Epic finally revealed that Paragon will be… a MOBA! It's an increasingly overcrowded genre, but perhaps the grittier tone can help set Paragon apart from the likes of Smite and Hi-Rez' Paladins. You can pay to buy into an Early Access build next Spring and you can see its heroes in action in the first trailer. You can also see some in-game action here, in which a robot defeats enemies with a big exploding trouser press.
Strafe
Developer: Pixel Titans
Publisher: Pixel Titans
Release date: 2016 (via 1996)
Link: Official site
Does anyone really want the '90s back? The team at Pixel Titans wants to find out by making the most over the top shooter that could have theoretically been created in the heady days of 1996. Strafe wants to be the "fastest, bloodiest, deadliest, most adjective-abusing" embodiment of the old-school FPS, when player characters used to slide around levels at high-speed reducing low-poly villains to wet chunks. You'll know what I mean when you see the debut trailer. The Kickstarter pitch video is worth a watch for its raw 1990-ness.
Squad
Developer: Offworld Industries
Publisher: Offworld Industries
Release date: Late 2016, in Early Access now
Link: Official site
Looking for a new modern military sim? Squad offers 50 vs 50 battles in 4x4km battlefields. It's built in Unreal Engine 4 by the team behind the popular Project Reality mod for Battlefield 2. Map randomisation ought to keep repeat engagements interesting and the game's focus is very much on tactical play in realistic environments. The team has even spent ages getting explosions just right. It's currently in Steam Early Access.
LawBreakers
Developer: Boss Key Productions
Publisher: Boss Key Productions
Release date: TBA
Link: Official site
In a world where the moon is no more, warriors grab grappling and make war on floating islands. LawBreakers is a fast-paced arena shooter from Cliff Bleszinski's new studio, Boss Key Productions. It will be free to play, and feature lots of rockets, grenades, jetpacks, and gravity-warping bombs. Here's the first footage. It looks like a cross between Unreal Tournament and Bulletstorm—no bad thing at all.
Umbrella Corps
Developer: K2
Publisher: Capcom
Release date: Early 2016
Link: Official site
Live in the UK and want to play Umbrella Corps? It will be at the PC Gamer Weekender with great upcoming games like Dark Souls 3 and Street Fighter 5.
Nobody was asking for a speedy third person multiplayer cover shooter set in the Resident Evil universe, but here we are. The Umbrella Corporation lies in tatters, and now other corporations want to fill their vaults with the organisation's secrets. That means war, with guns, in filthy abandoned bases full of zombies. The zombies can attack you when provoked, but thanks to a jammer device, will ignore you unless provoked. That means you can grab them for use as meat shields in the middle of a firefight. Weird, but it could be fun?
Battleborn
Developer: Gearbox Software
Publisher: 2K Games
Release date: May 3, 2016
Link: Official Site / Amazon
This FPS/MOBA mix, Gearbox's first new property since Borderlands, and will feature 25 different playable characters and include a co-op campaign that can be played solo or with friends. Part sci-fi, part fantasy, weapons and abilities cover the range from miniguns to magic spells. We had a little hands-on time with it, and while we're not completely sold on some of the game's modes, we found the combat itself fun and flexible.
Paladins: Champions of the Realm
Developer: Hi-Rez Studios
Publisher: Hi-Rez Studios
Release date: Out now
Link: Official site
After the success of its third-person MOBA Smite, Hi-Rez Studios is trying to combine a hero-driven FPS with the addictive customization of a card game. You collect cards, build decks, and customize your play style throughout a match by selecting new cards as you level up. Paladins launched in closed beta in November 2015, so expect Hi-Rez to continue iterating on it throughout the year. Our early impressions weren't too positive—the maps felt largely oversized and empty, and guns lacked the oomph of our favorite shooters—but a lot can change over the course of a beta.
Plants vs. Zombies: Garden Warfare 2
Developer: PopCap Games
Publisher: Electronic Arts
Release date: February 23, 2016
Link: Official site / Amazon
When the original Garden Warfare was announced, it was hard to not think of it as a novelty, a lighthearted, simple game that took a few playful stabs at some multiplayer titans. What we got wasn't a joke, but a fully featured class-based multiplayer game. With Garden Warfare 2, we're getting more maps, modes, and playable classes. Whether or not the changes are enough to nourish another Garden Warfare for the long haul remains to be seen, but with promised free content doled out after launch and the cartoonish charm of the Plants vs. Zombies forcing grins left and right, it's hard to be worried.
Shadow Warrior 2
Developer: Flying Wild Hog
Publisher: Devolver Digital
Release date: 2016
Link: Official site
After 2013's reboot of the crass, endlessly playable 90s classic, Shadow Warrior, it was inevitable that Shadow Warrior 2 was on the way. After circulating as a pre-E3 rumor, Shadow Warrior 2 was confirmed--and with 4-player co-op, as well. Since June we've seen a trailer and a full fifteen minutes of in-game video. The real hero of Shadow Warrior 2's 2015 was our endless supply of dick jokes riffing on Wang, the protagonist. At least one such joke accompanied every Shadow Warrior 2 story this year, because we have extremely high quality standards when it comes to juvenile humor. Well done, everyone.
Desync
Developer: The Forgone Syndicate
Publisher: Adult Swim Games
Release date: 2016
Link: Steam
The more Adult Swim Games I see, the more admire what the publisher is trying to do. The games aren't always the best put-together (I'm looking at you, Traverser), but they're always strange, ambitious, and beautiful. Desync is a twitchy FPS wrapped in psychedelic '80s polygons, and it looks colorful enough to saturate your eyeballs for days on end. When Shaun took a long look at Desync at PAX Australia, developer Forgone Syndicate told him that the game tracks your every move and scores it for aggression, and style. We'll find out if Desync is as much fun to play as it is to stare at sometime next year.
Kieru
Developer: Pine Fire Studios
Publisher: Pine Fire Studios
Release date: 2016
Link: Official site
The hook for this 2-on-2 PVP game is undeniable: black ninjas and white ninjas battle it out in a monochrome world. The black ninjas are invisible in shadows, and the white ninjas are invisible in daylight, so each team has about half of each map that is frightening and lethal. If the game can capitalize on the thrill of hunting another ninja without sacrificing the boldness of this gorgeous art style, it could be the breakout PvP game of next year.
Warhammer 40,000: Dark Nexus Arena
Developer: Whitebox Interactive
Publisher: Whitebox Interactive
Release date: October 2016
Link: Official site
There's no shortage of Warhammer games right now, so it's only natural that 2015's most crowded license should come to 2015's most crowded genre: a MOBA called Warhammer 40K: Dark Nexus Arena. After landing on Steam early access in December, Dark Nexus has found mostly negative Steam user reviews. The Warhammer name is pretty strong, but is it strong enough to survive an unbalanced MOBA development cycle? We'll find out when Dark Nexus launches in October.
Homefront: The Revolution
Developer: Dambuster Studios
Publisher: Deep Silver
Release date: 2016
Link: Official site
Homefront didn't set the world on fire when it was released in 2011, but despite the broad ambivalence, new series' caretaker Dambuster is taking the same broad concept—what if Korea, but America?—and trying again. This time it's an open world game, with a Philadelphia map divided up into different zones of KPA control. To help you fight for freedom are a number of tools, including a remote control car that you can strap a variety of different bomb types to. For more, check out Phil's hands-on report from Gamescom.
Sniper: Ghost Warrior 3
Developer: CI Games
Publisher: CI Games
Release date: 2016
Link: Official site
Once again, the greatest shame of this series is that they mean 'ghost' in the silent murder-man sense, not the ghastly ghoul sense. Who wouldn't want to be a stoic, determined ghost sniper—shooting out wrong'uns with a high-powered ecto-blast? Ah well, what we get instead is the third game in the middling FPS series. This sequel will feature larger, more open-ended maps, allowing the player a variety of possible approaches. Sniper: Ghost Warrior has never been able to realise the obvious appeal of its core premise. Hopefully this third game can finally correct that mistake.
Dreadnought
Developer: Yager Development
Publisher: Greybox
Release date: 2016
Link: Official site
The tagline for Dreadnought is "Size Matters." It's a game about how much junk is in your trunk; your trunk being space, and your junk being the great big spaceship that's in it. It's a multiplayer combat flight sim—putting you in command of the deadly mass of metal, and letting you take down opponents while managing the ratio of power between engines, shields and weapons. Tyler logged some hands-on time with Dreadnought at PAX, last March.
Titanfall 2
Developer: Respawn
Publisher: EA
Release date: October 28, 2016
Link:
Previously mentioned only in EA earnings reports, Titanfall 2 was on form at E3 2016. Sam was thoroughly excited by what he saw, and better yet, EA won't be charging for DLC maps and modes down the line. In contrast to the first game, Titanfall 2 will come with an offline singleplayer campaign, which is great for the antisocial with a love of mechs.
Battlefield 1
Developer: DICE
Publisher: EA
Release date: October 21, 2016
Link: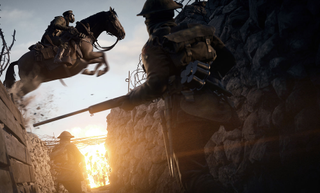 A week before we head to the far-future warzones of Titanfall 2, DICE is taking us back in time to World War 1. Granted, it's a fantastical take on WW1 in which every grunt has an automatic weapon, but it's the return to the early days of global conflict players have been clamouring for. In his hands on, Phil said it reminded him most of Bad Company 2, which is no bad thing.