30 Mount & Blade: Warband
RELEASED 2010 | LAST POSITION New entry
Steven: A single paragraph will never be enough to convey all the excellence packed inside this endearing medieval nobility simulator. It's the kind of robust RPG you could lose months of your life to in a bid to become king. Or maybe I'll just be a humble merchant instead. And if you ever tire of the singleplayer, you can go online and play in epic multiplayer siege battles, manning the walls against a real-world onslaught.
29 The Elder Scrolls IV: Oblivion
RELEASED 2006 | LAST POSITION 66
Chris L: The freedom to go anywhere, do anything, and be anyone has rarely been captured as well as it has in Oblivion. It's a game happy to offer you dozens of different adventures, yet it doesn't give a damn if you actually undertake them.
Angus: It's great on account of its Britishness. Everything seems prim, pastoral and proper in the Imperial heartlands. Then you stumble upon a Lovecraftian cult in the wilderness.
28 Portal 2
RELEASED 2011 | LAST POSITION 14
Tim: I firmly maintain Portal 2 is best played with another person, taking it in turns at each puzzle until one of you cracks it. Partly to prevent frustration when you get spatially snowblind, but more because each section spits out so many wonderful "Ooh, look what the clever bastards have done here" moments that you instantly want to share. Also, that one of best and funniest games on PC is fundamentally about physics and geometry is, well, perfect.
Andy: Everything is pitch perfect. The puzzle design, the art, the music, the voice acting, the humour. Your journey through the history of Aperture Science is both funny and surprisingly moving.
Samuel: Stephen Merchant and JK Simmons were a vital part of Portal 2 's success when it came to storytelling.
Phil: I think Portal has the better, tighter singleplayer story, but Portal 2 has some great extras. Co-op is frequently hilarious, especially if you play with a jerk. The thousands of mods and user-made maps are just the icing on a very real cake.
27 Rainbow Six Siege
RELEASED 2015 | LAST POSITION New entry
Shaun: Modern shooters punish you for staying still, for being careful, for stopping to take a breath. These things are fundamental to how Siege is played. Ubisoft's destruction engine ensures that surprises continue nearly a year later.
Evan: Siege is surprisingly intimate. You get to know your opponent over a series of rounds on attack and defence, spying on them through surveillance cameras and wheeled drones.
26 Civilization V
RELEASED 2010 | LAST POSITION 37
Tyler: I love the early game, when I'm plotting my ideal civilisation, imagining my mining town connected to my seaside capital connected to my island shipyard. And then Civ gets in the way with barbarians and encroaching territories, and so begins ten hours of warring and rebuilding.
Tom M: It's exciting and dangerous, like a race against invisible opponents and a clock you can't see. When they finally fade into view, the real game begins.
25 Left 4 Dead 2
RELEASED 2009 | LAST POSITION 95
Evan: If you haven't dug into L4D2 's ocean of player-created campaigns, models, and weirdness, you're missing out on some of the best mods of the decade. Download GoldenEye 4 Dead, Questionable Ethics, the Silent Hill remake, or the re-creation of Helm's Deep, and thank me later.
Wes: It's the best platform for a co-op shooter ever: Valve and the community built years' worth of great stuff to play casually or competitively with friends.
24 Overwatch
RELEASED 2016 | LAST POSITION New entry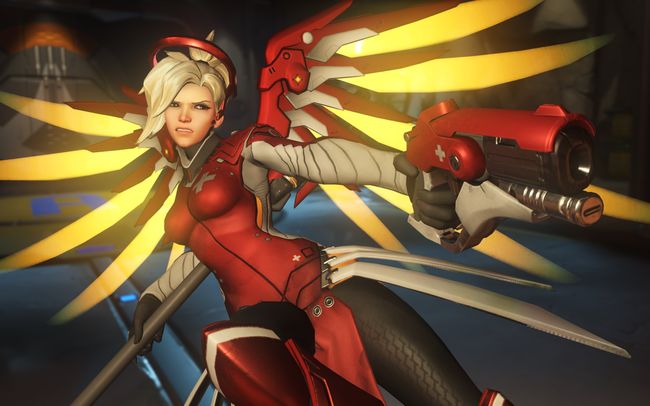 Chris T: Its success is the result of a million small but brilliant decisions. As with World of Warcraft a decade ago, they've taken a genre—in this case the online class-based FPS—and made its qualities accessible to a much bigger audience. And in doing so, they've hit upon innovations that competitors will be borrowing for years to come.
Angus: You spawn, shoot—usually not well enough—die, and respawn. On the whole, I am sick of this loop, but somehow Overwatch has swept away years of genre fatigue. It might be the insane variety its characters bring to the 'shoot' phase. Or it could be the Blizzard palette saturating my eyes.
23 Divinity: Original Sin
RELEASED 2014 | LAST POSITION 28
Tom M: The freedom of choice of this RPG is something I can't even begin to comprehend. You can kill anyone you want and the game keeps going. You can steal anything not bolted down, which for most people meant a whole lot of paintings. You can make a choice with one character, then decide your other character disagrees. I spent 80 hours beating Divinity , and plan to put another 80 into the Enhanced Edition.
22 Minecraft
RELEASED 2011 | LAST POSITION 21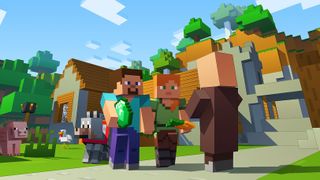 Chris L: In a chunky yet beautiful procedurally generated world that is essentially infinite in size, how will you spend your time? There's really no wrong answer. You can explore endlessly, visiting caverns and mountaintops and sailing the seas in a hand-crafted boat, or hunker down for weeks in one small corner of the map and make yourself a homestead. It's a game for builders and adventurers, suitable for both veteran gamers and kids, and deservedly one of the bestselling games ever.
Phil: Even if, like me, you don't play Minecraft any more, it's hard to deny how important it is. It's brought a whole new generation into PC gaming, powered the imagination and creativity of millions of people, and afforded its creator the chance to spend the rest of his life living in a mansion. I don't play Minecraft now, but I have to respect it.
21 Deus Ex: Human Revolution
RELEASED 2011 | LAST POSITION 32
Tom S: Soft synths, a forest of glowing skyscrapers at night, stylish technology, beautiful ceilings—Human Revolution has everything a cyberpunk fan could want from a PC game. It's also a smart immersive sim that blends cover-shooting, conversation and hub exploration into a brooding, violent thriller. When the VTOL hurtles towards a new city and the music picks up, I get tingles every time.