80 Super Meat Boy
RELEASED 2010 | LAST POSITION New entry
Shaun: Instead of playing an Italian plumber, you play a piece of meat. Instead of fending off goombas and flying turtle things, you're avoiding globs of snot and meat grinders. Every single thing about Super Meat Boy is better than Mario: it feels better to play, it feels more satisfying to win, and there's no Luigi. Team Meat mastered the action-oriented platformer with this, and while thousands have tried to replicate its success, none have managed.
79 Rising Storm
RELEASED 2013 | LAST POSITION New entry
Tyler: This realism-focused 64-player shooter casts you as an extra in a sweeping battle. As much as personal victories matter—wrestling ranged shot out of a WWII rifle, finally making it to the front line with a flamethrower to shut down a capture—just running to points as a team as artillery fire splashes around you is part of the fun. Kill the right guy, or suppress a route well enough, and you may earn your team a win.
78 FTL: Faster Than Light
RELEASED 2012 | LAST POSITION 27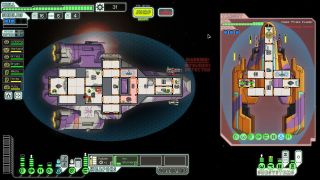 Samuel: A consistently fun strategy game, FTL captures the feeling of being a space captain better than any other. A lot of that is tied up in the writing, which subtly portrays a rich galaxy in the throes of civil war, where slavers roam unoccupied star systems, where the bad guys are coming to get you, and where the good guys are barely holding on. I play it for at least 20 hours every year.
Tom S: There's an element of luck to the items you acquire and the events you run into, but there's always a sense that you have a chance to reach the end, even as the oxygen is draining from every compartment, and your crew is being killed by rampaging space insects.
77 The Curse of Monkey Island
RELEASED 1997 | LAST POSITION New entry
Tom M: Some adventure games just don't get old, even if you know all the puzzles and jokes. Something about sword fighting with insults just doesn't lose its charm, and Curse is filled with so many charming moments that everyone who has played has a different one they remember fondly. It doesn't show its age nearly as much as the earlier games, and is still worth your time in today's adventure game resurgence.
76 80 Days
RELEASED 2015 | LAST POSITION New entry
Andy: A masterpiece of interactive fiction, this has some of the best, most evocative writing I've encountered in a game. It paints a fascinating world of mechanical curiosities and political turmoil, and every trip is different. Hero Passepartout, an unassuming French valet, grows as a character with every leg of the journey, and his complicated relationship with his master results in some great moments—particularly on those rare occasions when the unflappable English gentleman reveals his true feelings about the trip.
Wes: I solved a murder on a passage from Japan to California. I spoke to the sentient machine powering an incredible airship. I fled from an army of automatons. Every one of these moments was conveyed through text, but the writing is so vivid, I'd count them among my most memorable game experiences in years.
75 The Stanley Parable
RELEASED 2013 | LAST POSITION 96
Phil: It's a comedy about agency. A narrator guides you through a surreal story about an office worker. At multiple points, you choose whether or not to act out the disembodied voice's instructions. Whatever you decide, jokes happen.
Samuel: Jokes, and other things so surprising I won't spoil them here. This is one of the best narrative games on the list, and for every different choice you make on a playthrough, you're rewarded.
74 Nuclear Throne
RELEASED 2014 | LAST POSITION New entry
Wes: Where Spelunky brought deep systemic interaction to the roguelike, Nuclear Throne brings furious twitchy shooting married to the precision of mouse control. A few stray bullets (and there are many, many bullets in this game) will end your run, but enemies go down fast, too. The real replayability comes from a ridiculously diverse arsenal, from screwdrivers to flame shotguns, and the roster of ten-plus unique playable characters. Where else can you play as a katanawielding chicken or a melting pile of flesh who destroys corpses with the power of his mind?
Samuel: This roguelike shooter cements Vlambeer's place as one of PC gaming's most exciting indie developers, sporting weird and wonderful post-apocalyptic visual design. Probably the best twin-stick shooter on PC (but you're probably using a mouse, of course).
73 Don't Starve
RELEASED 2013 | LAST POSITION 82
Tim: In many ways this compulsive and engrossing Tim Burtonesque goth survival whimsy is a poster child for how betas and Early Access ought to work, with a long cycle of iteration based on feedback from a fanbase that instantly fell in love with the cute but gloomy art. The most recent release, Shipwrecked, has you hop-scotching between islands trying to scrounge resources to craft vital contraptions, beset by poop-flinging monkeys, aquatic terrors, and the ruthless march of the seasons. The joy is in getting to the point where your camp feels perfect, and you're equipped to face all the world's perils. Because that's inevitably when you really mess up.
72 Return to Castle Wolfenstein
RELEASED 2001 | LAST POSITION 68
John: Taking more than a little inspiration from Clint Eastwood's battle in Where Eagles Dare, this brilliant FPS throws Nazis and zombies together like salt and pepper on bratwurst. It taps into Hitler's terrifyingly real exploration of the occult, and dispatches BJ Blazkowicz to put a lid on it. It's a solid shooter, packed with hidden treasure, tongue-in-cheek gags, and a few leather-clad frauleins thrown in for good measure.
71 Mechcommander Gold
RELEASED 1998 | LAST POSITION New entry
Evan: In this RTS take on BattleTech you micromanage as many as 12 mechs from an isometric view across 30 missions, developing your pilots as you accumulate equipment, gamble on risky secondary objectives, and topple angry MadCats. Some of the mission design is wonderfully tough, putting you up against tight time limits, hidden land mines, or hard-to-crack base defences.
Your pilots add a touch of colour, coming with clichéd callsigns like Scarab, Goblin, or Ronin (my favourite was the hillbilly, Rooster), each with their own voice lines and even a unique death howl should you expose them to one too many ER PPCs. Gold combines the Desperate Measures expansion pack with the original game, adding 12 missions, more equipment and mechs, as well as a tile-based level editor. Oh, and it's freeware.