Nidhogg 2
Released: 2017 | Developer: Messhof Games
Bo: I'm a sucker for local multiplayer games, and Nidhogg is one of the best. Somewhat of a cross between fencing and tug-of-war, Nidhogg's 1v1 matches play out over the course of many brief but violent clashes, resulting in a tense back-and-forth that's every bit a battle of wits as it is one of skill. And like all good local multiplayer games, it's easy to pick up and play but has a well of strategic depth that makes it difficult to master.
The recently-released Nidhogg 2 builds on its predecessor with a new grotesque claymation art style as well as a handful of new weapon types that mix combat up just enough to make things exciting without hampering the original's simplistic greatness. The result is a fantastic fighter we keep coming back to—especially if an office bet needs to be settled.
Fez
Released: 2012 | Developer: Polytron Corp
Shaun: Fez accumulates more poignancy with age. It's a puzzle platformer tightly stuck between two dimensions, and harried by each of them. The protagonist is tasked with investigating and hopefully fixing the scourge of a newly arrived third dimension in a happily two-dimensional world, and this could read, from a fairly one-dimensional point of view, as an indictment on progress, a kind of luddite's journey.
But as time passes—as the world becomes more overtly hostile—Fez's innocent take on the loss of innocence rings true. As time passes, each of us will realise that certain uncomfortable truths have always lingered just out of our sight, waiting to pounce. And others will persevere, dig deeper (whether wisely or otherwise), for conspiracies and better buried secrets (and boy does Fez have secrets). Fez is a game about the hidden regions of our world that are always there, always mysterious, usually forbidding. It's a beautiful and serene and sad game, but also, as an aside, really fun to play too. Fez is timeless in the way it can convey a wealth of emotion and contemplation through its systems alone.
Wes: After its fairly simple introductory hours, every discovery and deduction I made in Fez felt like a hard earned victory, or the unraveling of an impossibly complex puzzle. I love the sensation of "this can't possibly be the solution" in a videogame, only to discover that my crazy hypothesis was correct. That's what Fez is all about. And I love how clearly you can feel the immense amount of thought and polish that went into it; it feels every bit the intricate, perfectly tuned puzzle someone spent half a decade slotting together, piece by piece, until everything was just so.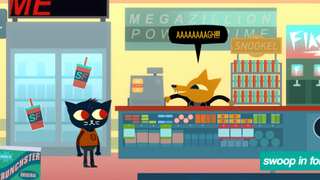 Night in the Woods
Released: 2017 | Developer: Infinite Fall
Shaun: Some of the most noteworthy indies from the last decade have been adventure games, but it took until 2017 for one of the highlights, Night in the Woods, to emerge. As endearing feline Mae Borowski, you're returning to the sleepy rural town of your childhood after an unsuccessful college stint. The town is on the decline, and so too, it seems, is Mae's future. Things haven't quite turned out the way she (or her family) had hoped, and much of Night in the Woods is about dealing with this mild disappointment. Exploring the township of Possum Springs is a joy in itself, but it's the way Night in the Woods weaves a universal coming of age tale around an otherwise straightforward puzzle-laden adventure game that is remarkable.
Kentucky Route Zero
Released: 2013-ongoing | Developer: Cardboard Computer
Jody: I wanted to wait. I wanted all five episodes of Kentucky Route Zero to be complete before I climbed into it and drove off. That's how I played The Walking Dead, and rumbling through that in one week contributed to its effect. I caved in and played Kentucky Route Zero though because a poet recommended it to me, and that's not something that happens every day. It's obvious why she thought I had to try it, unfinished as it was (and still is). Kentucky Route Zero's writing is gorgeous, ornamental but also able to get right at the meat of a thing. It's there when someone calls an office bureaucracy "the paperclip labyrinth" or describes topology as "the science of continuous space".
Kentucky Route Zero is an adventure game of the modern kind, where decisions and dialogue rather than puzzles pace your progress. It's about finding a lost highway, but it quickly buries you in a kind of American mythology where mystery roads are the least strange thing. I'd hate to spoil what you'll find, but if you get in an elevator, see a button that says "third floor (bears)" and aren't tempted to press it, then I don't even know you.
Though it feels like being in a novel, Kentucky Route Zero pays homage to games. That explanation of topology takes place in "a twisty maze of passages", a reference to the classic text game Colossal Cave Adventure. So is the fact that the first item you pick up is a lamp. Some of the earliest PC games were about manipulating words because that was all they had. Kentucky Route Zero is about manipulating words because that's a fascinating thing to do. It's hard to explain why encountering its word-hoard has such a potent effect, but I'm just a journalist. They should have sent a poet.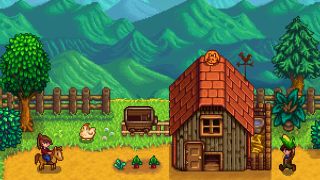 Stardew Valley
Released: 2016 | Developer: Eric Barone
Bo: There are few games that delight me in the way that Stardew Valley does. I grew up loving the Harvest Moon series, and Stardew takes that formula and applies it to the PC space. Stardew strips away many of Nintendo's puritanical hangups—same-sex marriage and sexual innuendo aren't taboo inclusions, for example—but maintains the charm of tilling fields, planting seeds, and growing crops. There's also a vibrant town to get to know, mines to explore, and tons and tons of fish to fish. I've spent more than 80 hours in Stardew Valley, and I'm looking forward to my next trip to the country.
James: Do you see me now, dad? You didn't think my mayonnaise dreams would get me anywhere and look at me now.
Jody: Thank goodness I am not the only person making bank off mayonnaise. The quality eggs provided by my hens, Chickity and Nug, are the secret of my success.
Undertale
Released: 2015 | Developer: Toby Fox
Wes: A friend and I played Undertale in a single sitting. It first inspires curiosity at its quirkiness, then determination to solve its challenging combat without taking the easy way out, then admiration for the delivery of its jokes and the tight meshing of themes and RPG mechanics twisted sideways. Comparisons to Super Nintendo RPG Earthbound, while apt, don't do Undertale justice: it's incredibly smart in how it thinks about the way we play videogames and challenges and surprises with new ideas at every step.
It's a game I genuinely think everyone should play. You'll either appreciate the humor, or the challenge, or the freedom to play through in many different ways, or the painstaking one-off moments, or the ways creator Toby Fox bent engine Game Maker to his will, or the prospect of a "true" ending to earn. It looks simple, but there's so much under the surface.
Kerbal Space Program
Released: 2015 | Developer: Squad
Chris: Whether you're seriously into the science and simulation, or just looking for some fun sending adorable astronauts into space (or watching their rockets explode before they get there), Kerbal is a near-perfect physics sandbox. One of the reasons it's such a joy to play is that there's immense satisfaction in the successes, like the first time you reach orbit, or land on the Mun, or safely bring your astronauts home from a mission, but there's also pleasure to be had (as well as lessons to be learned) from your failures.
KSP is both easy and immensely challenging: rockets can be snapped together quickly, and tweaked or rebuilt in mere moments, but conquering the solar system requires precision and know-how. Its charming looks and its detailed physics simulation make it a game for just about anyone, from casual rocket tinkerers to passionate rocket scientists.
Hollow Knight
Released: 2017 | Developer: Team Cherry
Wes: The best Metroidvania in years, perhaps because developers Team Cherry didn't explicitly set out to make a game in the image of Metroid. They were making a 2D action game, sure, set in a gorgeous hand-drawn decaying bug civilization, but they were mainly concerned with building out an intricate and interesting world, and the rest followed. "The rest," in this case, is a game that feels fantastic to play, with a character who moves exactly as you want and a weapon that hits with a fast and brutal crack. Combat and traversal stay rooted in the basics of jump, dodge, hit, never scaling too far beyond the capabilities you have from the very beginning. It always favors skill over power-ups.
Hollow Knight rarely tells you where to go or what to do, making palpable the satisfaction and wonder of discovering new parts of the world and new abilities. And it just keeps going. The world is huge, more detailed than you ever expect it to be, and suddenly you're two dozen hours deep and wondering how much you still have to find. The Super Nintendo had Super Metroid; PlayStation had Castlevania: Symphony of the Night. Hollow Knight may not be spoken of in the same breath, just yet, but before long I think its place in that lineage will be clear: the PC had Hollow Knight.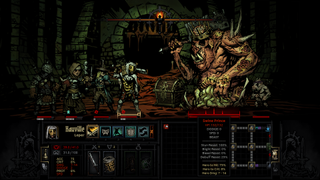 Darkest Dungeon
Released: 2016 | Developer: Red Hook Studios
Shaun: Ah, dread. It's what you generally try to avoid in an RPG rogue-like: you want to try to mitigate dread, manage it out of existence. But dread is Darkest Dungeon's default state. In vague terms it's a dungeon crawler, but the dungeons aren't miraculously swept chasms with the odd cobweb and exhumed grave—they're dank and gross. Add to that, the need to manage your entourage's sanity (not easy in a game that takes some small inspiration from Lovecraft) and you have an RPG that rarely offers respite. That could sound punishing, but Darkest Dungeon's mood, and the way that you can invest your emotions in its variables, rather than just your brain and its ability to parse bigger and better numbers, makes for a gripping and bleak RPG.
Evan: I love how martial, not magical, most of the character archetypes are. Apart from the Vestal, there aren't true spellcasters—Darkest Dungeon is acted out in blood, iron, poison, bones, and crossbow bolts. That grounds the game as a whole and adds to its grittiness. The fights that play out, with the help of great 2D camera effects and sound design, feel physical and jarring as a result. It also creates good contrast with DD's monsters, a gang of blood-sucking, spore-sneezing, tentacle-having, spinal column-collecting abominations.
Spelunky
Released: 2008, 2013 | Developer: Mossmouth
Shaun: The first time I played Spelunky I deleted it off my hard drive within ten minutes. Then, later, at the behest of then-PC Gamer scribe Graham Smith's review, I begrudgingly reinstalled it. I can still remember what hooked me this second time: I picked up a gold mask, a rumble filled the air, and then a massive boulder collapsed through the ceiling and crushed a nearby vendor to death. I laughed, it was funny, I woke my partner up. That's when I became addicted to Spelunky.
A lot has been written about the beauty of Spelunky's interlocking systems, its propensity for creating stories, and its tough-but-fair difficulty. That's all been said and written a hundred times before, and while Spelunky is still a relatively new game in the wide scheme of things, it feels like a classic. I often boot it up just to be inside of it, just to soak up its mood. It's weird to seek the comfort of familiarity in a game that's always throwing curveballs, but aside from the glory of its systems and stories, Spelunky is a really beautiful, heartwarming game. It also was the first to demonstrate to me, personally, that a small game that originated as freeware could contain so much: so many stories, so many events, so many countless, frankly embarrassing, hours.
Evan: I'm gonna use this opportunity to share this great cover of the Mines theme.
Wes: Even years later, Spelunky's spot on this list is well deserved. The way its hero and items and traps and enemies and random generation interact with one another is still peerless. Just as brilliant, though, is Spelunky's daily challenge, the perfect combination of old school arcade leaderboard and infinitely replayable randomized roguelike. The daily challenge added structure and permanence to a genre that prided itself on not having any, and it works; it's become a must-have feature in any similar roguelike ever since.