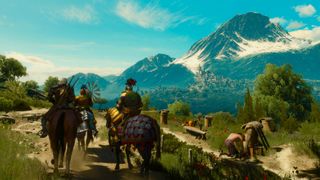 The Witcher 3
Between the northern European landscapes of Wild Hunt and the Mediterranean charms of Blood & Wine, CD Projekt Red provides a gorgeous and complete representation of the Witcher universe. It's not just the bleakly beautiful vistas that make regions like the Skellige archipelago so extraordinary to explore, it's that the developers clearly thought about how genuine wild places feel when creating them. Also, Toussaint is the closest games have come to offering a fantasy holiday destination you'd actually want to visit.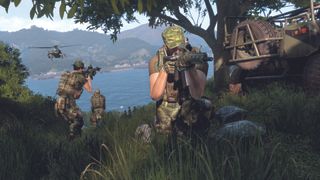 Arma 3
Bohemia is the king of beautiful and sprawling environments. The 270km2 island of Altis in Arma 3 is one hell of an achievement, and thanks to the heavy emphasis on simulation in the Arma games, it feels extremely realistic. I still count the day I spent wandering around there with the rest of the PCG team—while Andy Kelly played with the weather and mission conditions in Arma 3's Zeus Mode—as one of the most thrilling I've had in an open world. In the Apex expansion, Tanoa offers an arguably more compelling jungle setting to enjoy.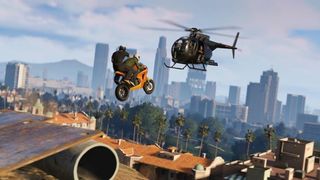 Grand Theft Auto 5
I love that GTA V's Los Santos understands the appeal of Los Angeles as a vast urban sprawl, with both beautiful and rough areas. All my favourite places are represented in Rockstar's open-world crime capital, despite it being a fraction of the size of the real thing. And the way it captures the city's flat, pounding heat is a step beyond what we once expected from visual effects in games. This is better than the real world. At Christmas, Rockstar covers the city in snow in GTA Online. This year I've planned my holidays around it.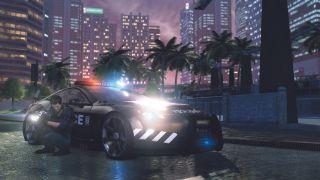 Sleeping Dogs
A friend once told me the food in Sleeping Dogs' night market looked so good that it made him hungry in real life. He's not wrong. I frequently find myself with a strong hankering for a pork bun when I play this game. It may have been created in the spirit of the various trashy crime games that sprang up in the wake of GTA III, but its recreation of Hong Kong is remarkable. While Rockstar seems mainly interested in bringing American cities to life, Sleeping Dogs is a strong attempt at replicating another part of the world.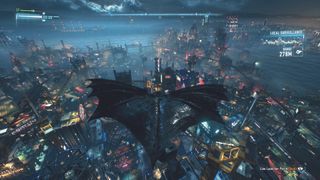 Arkham Knight
Rocksteady went from creating an isolated but convincing setting in Arkham Asylum to a beautifully grim urban sprawl in Arkham Knight, decorated with a Blade Runner-ish mix of bright lights and endless rainfall. It's one of the best open-world settings around, even if the game's tiring use of the Batmobile muddies your perception of it a little bit. The stuttery PC port aside, everyone should glide over this gigantic version of Gotham at least once. It's just such a detailed representation of Batman and his fictional universe.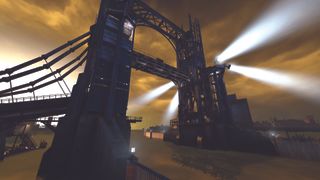 Dishonored
The world of Dishonored is represented in the first game through a collection of hub-style urban environments packed with side stories and bits of lore to uncover. A mix of magic, Georgian imperialism and whale-oil powered steampunk, the rat-infested, historically familiar and not overly stylised city is a neat sidestep from Thief. The second game will build on those little impressions of a wider world that you glimpsed out of the corner of your eye while playing this one. Personally, I can't wait to see more of the place.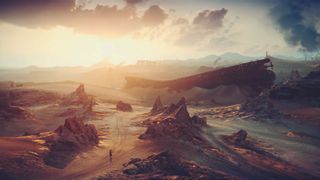 Mad Max
It's no classic when it comes to combat or story, but Avalanche's Mad Max is just the ticket if you've seen Fury Road and ever fancied using the game's photo mode to mimic imagery from the movie. The game's vast, nearly Just Cause-sized setting has a surprising amount of colour variation and unexpected weather effects, which collectively create a decent facsimile of the post-apocalyptic wasteland the movies are famous for.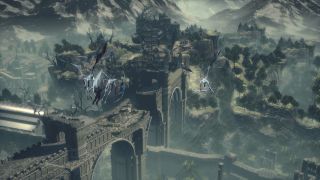 Dark Souls 3
While the first Souls game features some of the series' most memorable locations, the third game's haunting, gothic world has much more fidelity. From the faded grandeur of the colossal Lothric Castle to the haunting, wintry Irithyll of the Boreal Valley, it's one of From Software's greatest artistic achievements. And as well as looking pretty, the locations fill in the blanks left by the sparse, enigmatic story. Places like the Cemetery of Ash are full of subtle clues about the series' rich mythology.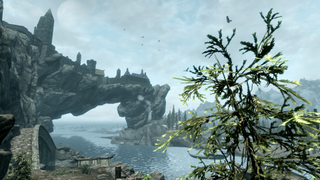 The Elder Scrolls V: Skyrim
If you're looking for an amazing fantasy world, The Witcher 3 probably clinches it, but Skyrim offers a little more high fantasy without as much grime, and with more dragon fights. Its variety of tundra still impresses, and with mods like Flora Overhaul and Realistic Water Two, it can look as contemporary now as your PC is able to handle. Or, you can wait for the Bethesda devs to update it themselves next month.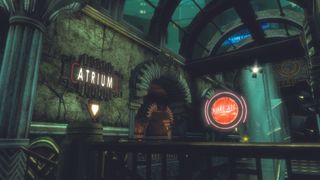 Bioshock and Bioshock 2
Revisiting Rapture for this feature made me remember just how new and foreign it felt the first time I saw the storefronts in the Medical Pavilion, or a giant diving-suit man walking through a flooding atrium escorting a demonic-looking little girl. Rapture is so bloody strange, in its mix of sci-fi otherworldliness and art deco. It's perhaps the strongest instance of fiction and setting working together on this list—an unforgettable journey under the sea.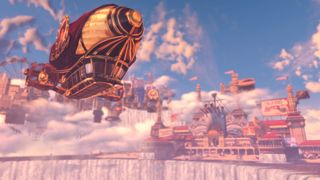 Bioshock Infinite
Play BioShock now and the size of its locations reflects the technical constraints of the time, however well the accomplished art direction covers it. Play Infinite, and it feels like the sky city of Columbia was created with unlimited resources and few restrictions. It's dreamlike, varied and gorgeous. It doesn't have to leave anything to the imagination—from the Hall of Heroes to the Shanty Town and Elizabeth's tower, it's a whole game of postcard-worthy sights, brought to life by a team of amazingly talented artists.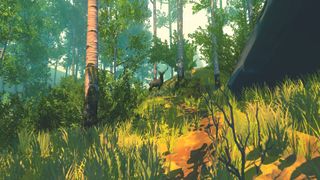 Firewatch
The Shoshone Forest of Firewatch was created from the stylish 2D art and direction of popular artist Olly Moss. And then, remarkably, it was built in 3D by just one person—environment artist Jane Ng. It feels sun-parched and wild—and rambling, despite the environment having been created mainly for the purposes of telling a linear story rather than exploration. This Wyoming wilderness is a place filled with secrets, where you will inevitably take lots of arty screenshots you'll then shamefully upload to Steam.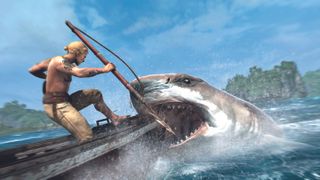 Assassin's Creed 4: Black Flag
Aside from Venice in Assassin's Creed II,Black Flag's setting is the only one I find exciting in Ubisoft's third-person murder universe. The art is always great in these places, they just don't feel handcrafted. That's not a problem when much of your game is set at sea, and you travel by ship between islands and other biomes, with the occasional settlement like Havana thrown in. Black Flag offers a sense of real exploration, inspired perhaps by the best 3D Zelda game, Wind Waker, which the series would do well to recapture on its inevitable rebirth over the next few years.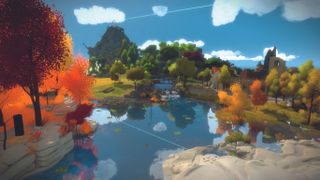 The Witness
This unusual, sort-of-Myst-inspired island of maze puzzles integrates its mysterious environment into its challenges. You're always learning more about it, and little of that is superficial. It's a gorgeous, handcrafted landscape, and you can see why it took Jonathan Blow and company over seven years to make. But having said that, do you ever look at these inoffensive Clinton Card images and think, "wouldn't it be good if I could land a military chopper on this shit then pop a bullet in some poor bastard's head?" Joking.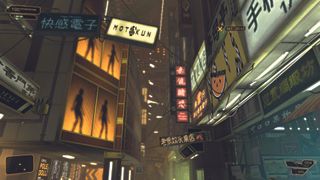 Deus Ex: Human Revolution
I deliberated on this one with Andy, since Prague in Mankind Divided has many gorgeous-looking districts, and has benefitted from five years of progress in videogame technology. But Human Revolution's Hengsha holds up. It's not huge, but the use of signage and densely packed, narrow streets creates a convincing sense that this is the bottom rung of a two-tiered futuristic city. Nothing feels over-designed, and the Hive nightclub is a standout.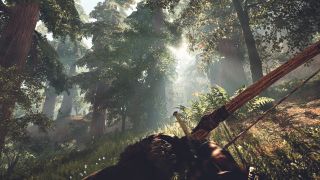 Far Cry: Primal
Andy and Tony suggested Far Cry 4, an equally beautiful setting that's immersive enough to keep you playing for dozens of hours, but I love Primal's stone age backdrop. The sound design is brilliant and often unsettling: in the distance you hear the cries of creatures that no longer exist. The effect of this untouched setting, as well as your relatively primitive powers (remote-controlled owls notwithstanding), is that you never feel entirely safe exploring it. I marginally prefer it to the other Far Crys for that reason, though the whole series offers some pretty amazing places to visit.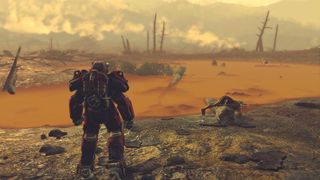 Fallout 4
Future Boston itself is a pretty, damaged urban environment, but it's the edges of the map I love. The journey to the irradiated Glowing Sea is so memorable, as you travel from the withered trees on its outskirts to a nightmarish deathtrap filled with Fallout's nastiest creatures. You find the eerie remnants of an aircraft and a church, among other things. Maybe Bethesda's post-Oblivion RPGs are starting to feel a little familiar in structure, but there's no doubting that the team making these worlds are at the top of their game.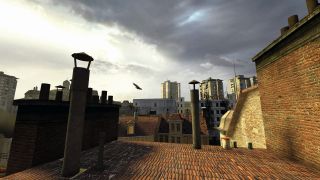 Half-Life 2
Half-Life 2's world still captivates, partly because of the skilled way Valve rolls back each layer to reveal the next. It's all revealed one map at a time along your journey, until you've built up a detailed picture of this conquered world. It helps that they're always giving you something new to do. From the canals of City 17 to Ravenholm and Nova Prospekt, Valve's visual storytelling is still unparalleled. Half-Life 2 has dated, inevitably for a 12-year-old game, but its environments still have the power to dazzle.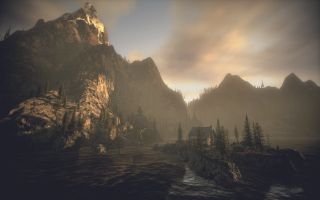 Alan Wake
I waited my whole life for a game set in the Pacific Northwest of Twin Peaks, then I got two in the space of about a year: Alan Wake and Deadly Premonition. Alan Wake's misty forests, empty cabins and eerily unpopulated towns are the perfect setting for this mostly nighttime horror shooter. A clever recurring technique used by Remedy is the teasing of enemies and new locations in the far distance, something made possible by game engine tech originally put in place when Alan Wake was going to be open-world.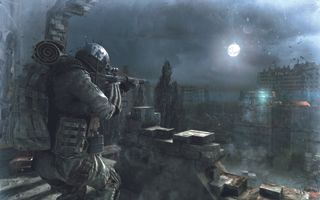 Metro: Last Light
Here's a cheerful note to end on. The post-nuclear Moscow setting of the Metro series offers the most beguiling and tonally bleak post-apocalypse around, whether you're in the irradiated overworld, or one of the admirably detailed underground settlements filled with NPCs telling stories of the game's horrible setting. For me, the highlight of exploring this world came early on when I found a downed aircraft that had been rotting among the ruins for two decades. I experienced the plane's final moments in a vision, before returning to its depressing present-day remnants. Misery has never looked so attractive.