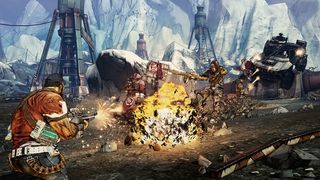 What we want from Borderlands 3
Borderlands was one of the best games to come out of 2012, and you might recall that we'd picked it as an Editor's Choice at the time. But even the best games can be improved. The last we heard of a third Borderlands was Randy Pitchford's downer of a tweet back in October 2012, when he claimed that the series' third entry wasn't in development. Sixteen months is plenty of time to start developing a new game, however, and with that in mind, here's our list of what we'd like to see if Borderlands 3 shows its face soon.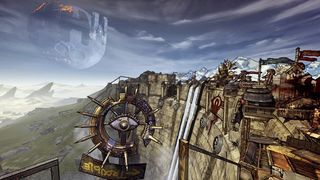 Leave Pandora behind
Look, Pandora's great. It shows that the Sanford And Son aesthetic works well in almost any environment—be it deserts crawling with skags or decrepit hamlets ripped out of Dungeons & Dragons. But after two games and near- unprecedented piles of DLC, it's time to move on. A new Borderlands would do well to set its unique brand of shoot-and-loot on another planter entirely, or for that matter, on multiple planets. It's a big galaxy out there, and letting us explore it would not only give us a welcome change of scenery, but also let Gearbox experiment with different physics and elemental loot.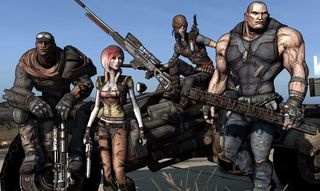 Improved character customization
If there's one thing that Gearbox doesn't seem to realize about its own game, it's that many players find dressing up their characters almost as fun as the core combat. Borderlands is best enjoyed in its cooperative mode, and extensive customization would allow players to distinguish themselves from their peers. We'd like to see more options besides swappable heads and color variations for outfits—instead, let's have entirely different costumes for each character. Just imagine, for instance, how much better Tiny Tina's Assault on Dragon Keep would have been if you were allowed to put on a robe and a wizard hat.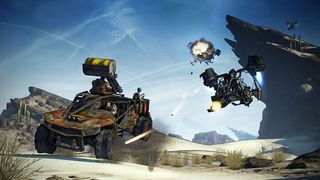 A wider selection of vehicles
Scooter really needs to diversify. Going Mad Max across Pandora's wastelands is fun and all with a tanky jeep, but options such as tossing exploding barrels do little to dispel the impression that we're just rehashing content from the first Borderlands. Why not let us fly? It's not as though it wouldn't be canon. After all, many vehicle missions involve shooting "Buzzards" out of the sky, so making a few zones allowing aerial navigation and combat shouldn't be too difficult. And while we're at it, let's add some waterboats, too.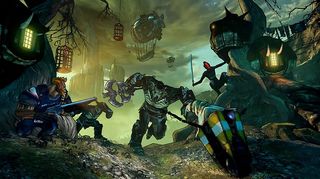 Improved enemy AI
You know the drill: You encounter an enemy in either Borderlands, and then they go nuts, either rushing you with makeshift axes or pelting you with bullets while they saunter from right to left. In time, the only thing that makes non-boss fights different from one another is how many bullets to takes before the baddies fall over. It's 2014; it doesn't have to be this way. Let's have enemies who surprise us and manage to sneak up on us. Just because the enemies are psychos doesn't mean they have to be idiots.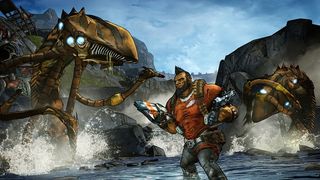 Improved difficulty balance
Among the big problems with the Borderlands franchise is that both games are almost too easy with a full group, and they're outrageously hard with certain classes if you like to go it alone. Borderlands thrives on cooperation, of course, but sometimes we simply want to go back through a stage ourselves. Since Borderlands owns a considerable chunk of its design to action RPGs like Diablo, it only makes sense to include a manageable single-player experience such as what you find in Blizzard's storied series.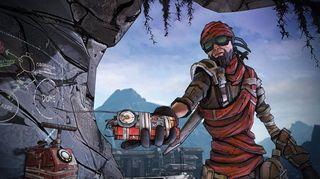 Make your own bounty hunter
Even after two games and 10 classes, playing with the available options doesn't cut it for some players. The easy solution would be to add even more classes or to revive some of the retired ones from the first Borderlands, but what if Gearbox went one better and allowed us to design our own bounty hunters to suit our preferred playstyles? It'd be a massive undertaking that'd require creating balanced special abilities and avoiding god-mode builds, but it'd also allow us to turn our Borderlands experience into something that's uniquely our own.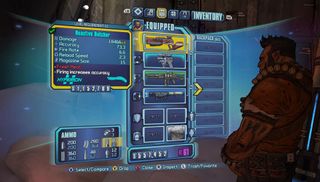 Better inventory and bank space
What's the most heartbreaking moment in Borderlands? You'd think It's the death of a major character, but it's not. It's tossing aside your legendary Fashionable Volcano with a 44.5 percent chance to ignite because you had to make room in your 27-slot backpack for some new specimen of badassery. Borderlands 2 remedied that problem a bit when it released a patch for new slots (among other things) back in April of 2013, but even then it seemed like a sin to toss aside legendaries that couldn't fit. While we're at it: Gearbox, give us a place to display some of that cool loot that we may have outgrown but we're still proud of. It works for Skyrim, and there's no reason why it can't work on Pandora.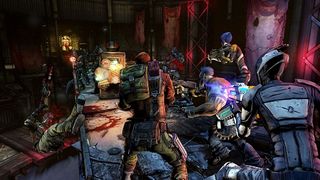 Episodic story DLC
The stories in both Borderlands games have always been lightweight affairs, but occasionally they shine, particularly in some of the downloadable content. Rather than just enjoying DLC based on whatever cool idea flits into the heads at Gearbox, however, we'd like to see DLC that maintains a consistent narrative for four or five releases. It wouldn't be too intrusive for players who care more about loot than sci-fi plotlines, and the associated cliffhangers could give other players reasons to look forward to the next installment. Telltale Games already proved that the format works for story-based games, and with its DLC record, Gearbox seems more than capable of pulling it off with a greater focus on action. Got any of your own ideas? We'd love to hear them in the comments!