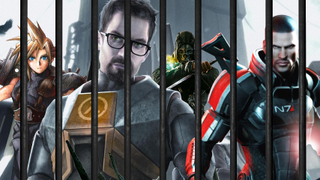 No one wants to end up in jail, but there's something fascinating about life in the clink. There have been some great fictional prisons in literature and cinema—and video games too. The following hoosegows are some of the toughest, most brutal, and hardest to escape from in gaming. From freezing Russian labor camps to max security space-jails, these are scariest imaginary prisons on PC.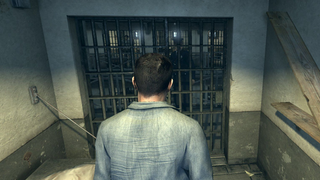 Hartmann Federal Penitentiary (Mafia II)
Protagonist Vito Scaletta gets busted for selling stolen ration stamps and ends up in the clink. This is an act break of sorts, separating the game's 1940s and 1950s chapters. The slow walk through the gates, being yelled at by jeering prisoners, is straight out of The Shawshank Redemption. You pass the time by punching people and scrubbing toilets, before emerging into a terrifying world of quiffs and rock and roll.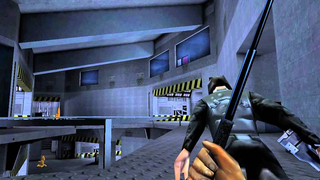 Majestic 12 prison (Deus Ex)
JC Denton defects from UNATCO and becomes a wanted man. He's captured and wakes up in a mysterious underground cell. With the help of a creepy AI calling itself Daedalus he manages to escape, only to discover that the sinister prison facility is located below UNATCO's Liberty Island headquarters. Most people who mess with Majestic 12 end up dead, but JC uses his nano-powers to break out and flee to Hong Kong.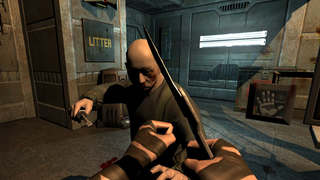 Butcher Bay (The Chronicles of Riddick)
Butcher Bay is a space-prison for the galaxy's toughest, gruffest space-bastards. Escape From Butcher Bay sees the titular Riddick, played by Vin Diesel, breaking out of this maximum security sci-fi prison by stabbing, choking, shooting, and sneaking past its small army of guards. But, even though escape is his top priority, he still finds the time to enter bare-knuckle boxing matches and shiv other prisoners.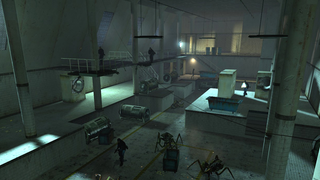 Nova Prospekt (Half-Life 2)
"It used to be a high security prison," says Alyx Vance, gravely. "It's something much worse now." She always was good at introductions. Nova Prospekt is an old prison that the Combine have converted into a facility for processing any 'anti-citizen' who fights against their tyranny. 'Processing' meaning being turned into a hideous half-machine monster. A grim place indeed, but no match for Gordon's gravity gun.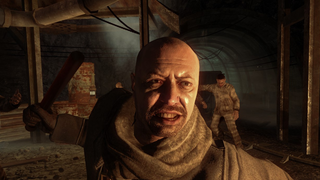 Vorkuta (Call of Duty: Black Ops)
Probably the toughest prison on the list, Vorkuta is grim Russian labour camp and one of the most memorable levels in Black Ops. With help from Viktor 'Gary Oldman' Reznov, your fellow prisoners, a mini-gun called the Death Machine, and giant slingshots loaded with explosives you battle to freedom and destroy half the prison for good measure. Shame about that rubbish vehicle section at the end.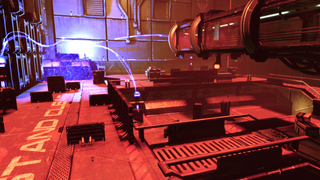 Purgatory (Mass Effect 2)
The prison ship Purgatory, operated by the Blue Suns mercenary company, is where unstable biotic Jack finds herself. Commander Shepard, hunting for the galaxy's baddest asses, flies there in order to recruit her. Before it was a prison, the ship was used to transport animals, which explains the tiny cages masquerading as cells. It's not all bad, though: if it gets crowded, the Blue Suns will dump you on a nearby planet.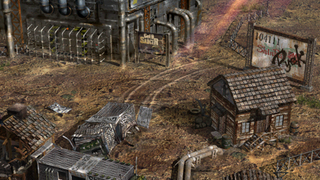 Corel Prison (Final Fantasy VII)
This desert prison used to be a peaceful coal mining town, but now it's a hellish jail. Cloud and co. are dumped here after a misunderstanding, and have to earn their freedom by entering, and winning, a chocobo race in the Golden Saucer theme park that looms over the prison. As far as I know, this is the only time in gaming history where you escape from jail by riding a giant chicken. Hopefully it's not the last.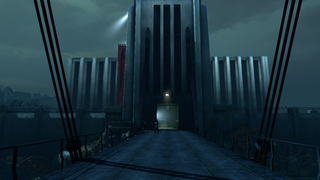 Coldridge Prison (Dishonored)
That's not a very nice name. Why not Warmridge Prison? Dishonored protagonist Corvo Attano is sent here after being wrongly accused of murdering the Empress he was charged to protect. It's an imposing building—designed by the same guy who dreamed up Nova Prospekt, Viktor Antonov—and serves as the game's tutorial. Murderous inmates, brutal guards, and rats are among this foul place's residents.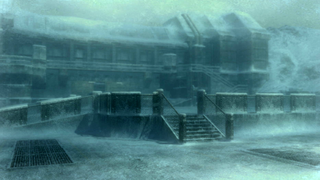 Shadow Moses (Metal Gear Solid)
This Alaskan military base isn't technically a prison, but Solid Snake finds himself imprisoned in a cell there during the first MGS. There are a few ways to escape, but my favourite is spilling a bottle of ketchup and lying down next to it. The idiot guard thinks you've killed yourself and rushes in to help, giving you a window to break out.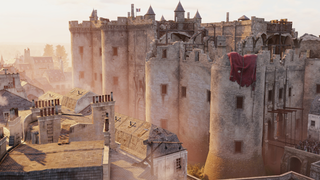 The Bastille (Assassin's Creed Unity)
Only slightly harder to endure than listening to the band Bastille, this famous French prison was notorious for its brutal treatment of prisoners. It's here that the foppish hero Arno Dorian learns how to fight, and ultimately becomes an assassin. After the French Revolution it was demolished and replaced with a monument, but it will live forever in the decidedly average Assassin's Creed Unity. C'est la vie.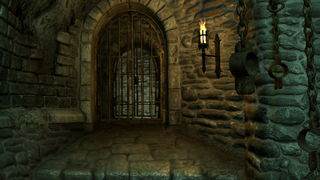 Imperial Prison (The Elder Scrolls IV: Oblivion)
One of the most famous video game prisons, this is where you start your adventure in Oblivion. You don't know what your crime was or how you ended up there—you're supposed to fill in the blanks—but a fateful encounter with the Emperor of Tamriel leads to your escape and transformation into a hero. You can return later and take the opportunity to teach gobshite Valen Dreth some manners.