Player-directed love stories are typically accomplished with "romance options." The options are characters, and in the mechanic's simplest form, if you do and say the right things to an eligible character, he, she, or Asari will fall in love, bed, or both. But can love—and more importantly, good storytelling—blossom from dialog options and cutscene trysts?
In this week's Face Off debate, Tyler says love is a bad game, arguing that writer-driven affection is preferable to mechanizing intimacy. Across the debate hall, T.J. cherishes the player-driven relationships that motivated him to save universes. Read more opinions on the next page, and argue your side in the comments. It's what the internet is for!
Tyler: "Alright team, we designed an interesting, complex character, but something's missing. What's that you say, every libidinous teenager? Wouldn't it be neat if players could manipulate the character's variables with the goal of fulfilling their carnal fantasies? Yes! Instead of a character, we'll make a doll that comes to bed and says 'I love you' when you squeeze it."
T.J: OK, I'm going to refrain from derailing this whole thing with an anti-neo-Victorian rant on how our society is irrationally afraid of sex, and make my case this way: relationships are a core part of being human, and just about any story about humans. Adding player romance to a game makes it feel more real and complete as an experience. Thinking about it from a gamist "manipulating variables" perspective is missing the point. And it's kinda gross.
Tyler: What's gross is connecting with Liara in Mass Effect, and then getting her in bed by skipping down an obvious, color-coded path. I'm not against portrayals of sex and relationships, especially not with blue monogender aliens, but achieving intimacy shouldn't be about choosing the right dialog options.
I liked bonding with Liara, but when we reached that inevitable moment of passion, our interaction went from engaging character development to an erotic fanfic on Tumblr.
T.J: And you would know what erotic Tumblr fanfic sounds like.
Tyler: I've seen things you people wouldn't believe. Fanfics on Angelfire pairing off Mulder and Evangelion. I watched scenes of glitter and Spock near—alright, I'll go ahead and lose this reference like tears in rain.
T.J: Please do.
Tyler: I'm an explorer, what can I say? Anyway, what I was saying is that alluding to romance would have been more effective than making it a binary goal, a hedonistic achievement. The latter cheapens the character and ultimately lets us down.
T.J: Well-done romance in games goes far beyond simple hedonism. To use another example from the same franchise: romancing Tali created one of the most emotionally striking moments in Mass Effect 3, and it had nothing to do with sex. I wanted to help her rebuild her home. I wanted to settle down there with her, and give her the life her people had dreamed of for so long.
Would I have wanted that even if she hadn't been my character's romantic partner? Maybe. But the impact would have been far, far less... impactful.
Tyler: I can't believe you brought that up, you insensitive boor! Don't you know what happened to me and her? It didn't have to be like that, Tali...
T.J: I don't care how things went in the Tyler is Shepard timeline, which is clearly the darkest timeline. And I think you just proved my point.
Tyler: Jerk. Well, you're right that giving players more motivation than "save the universe because, like, you're on the front of the box and stuff" is part of what makes Mass Effect great, and building a romantic relationship is an effective way to design that motivation. But is presenting a stable of romantic candidates the best way to go about that? I don't think so. It makes my "relationship" the result of deliberate calculation, which ruins it for me.
In Half-Life 2, however, I don't even talk, but the subtle tenderness between Gordon and Alyx is a one way ticket to motivation city.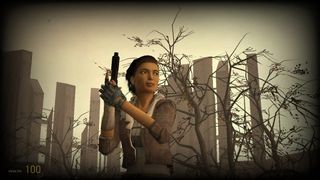 T.J: You have a point with Alyx, but I think in a game like Mass Effect, where so much about the protagonist, as a person, is determined by the player, you should be able to choose who they are romantically interested in. And you need a few, varied options to make that a possibility. There is a place for doing it the Half-Life way, but I feel more personal attachment in games that do it the BioWare way.
Tyler: I'll respond to that, but first we have to stop dancing around the real problem and just say it: I don't want to reinforce negative gamer stereotypes, but trying to ignore every opportunity to make an immature joke about "reaching the story's climax" or "doing it BioWare style" is just killing me.
T.J: Based on Dragon Age, I don't know that I ever want to "do it BioWare style." But that just further illustrates my point that the sex scene is not the reward.
Tyler: Anything raunchy, salacious, or simply involving the letter "x" will motivate some, but I'll give you that developers aren't required to justify their intentions or gauge player maturity.
My real problem is that interactive storytelling is still clumsy. It's getting better, and some decisions work, like whether or not to do space violence here, or save a space colony there, but building a relationship with tacky dialog wheel winks and nudges feels crude. I'd rather romantic intentions stay ambiguous or writer-dictated until there's a game sophisticated enough to make it feel natural. Right now they just feel like dating sims.
T.J: It's all a matter of perspective. Sure, the tech isn't there yet to simulate the depth and nuance of a real-life romance in a player-directed system, but you could say that about a lot of things: the way the space rifles work, the way the space villagers react to your presence. Games inherently require abstraction. And personally, I'm willing to deal with the level of abstraction we see in game romances right now for what it adds to my personalized narrative. Which, at times, is quite a lot.
Tyler: Nuh uh, games should be just like real life ...would be a terribly dumb rebuttal. Alright, so your point about abstraction is a good one, but I still think author-driven romance is superior. Put one of those little black boxes in front of your TV and play Ico . That was an expression of affection, if not quite the same kind as we've been talking about.
The point is, wooing characters who are programmed to be wooed just makes me feel weird. Unless, of course, I'm using "wooing" to mean "shooting up a floor full of suit-wearing dudes like that scene from 1992 John Woo film Hard Boiled". I'm totally cool with that kind of Wooing.
T.J: The only thing that could make that better is getting the girl at the end.
Follow Tyler and T.J. on Twitter to see day-to-day debates as they happen, and jump to the next page for opinions from the community...