Original Flavor
Looking for mods for the original version of Skyrim? We've selected over 100 of the best mods for improved visuals and optimization, new quests and locations, roleplaying and immersion, creatures and NPCs, and much more. Our list is here.
With the arrival of the Skyrim Special Edition, and the news that modded saves from the original Skyrim would be incompatible, it's no surprise that mods for the remastered RPG are in high demand. Modders have been quick to answer the call, making Special Edition versions of their mods available, and we have no doubt that brand new mods are on the way as well.
Until SkyUI and the Skyrim Script Extender are updated to support the Special Edition, a lot of our favorite mods currently don't have full functionality, so we'll be revisiting and updating this list in the future. In the meantime, here's our list of the essential mods available right now for Skyrim Special Edition. Many of these mods can be found on Bethesda's site and downloaded while in-game, but the links I'll be posting will all point to the repository at Nexus Mods.
Unofficial Skyrim Patch
Since Bethesda didn't make any fixes to the Skyrim Special Edition—they just improved its graphics—it's still got all of the problems the original game shipped with. That makes this mod more or less critical: it's a compendium of hundreds of fixes for bugs, text, objects, items, quests, and gameplay elements assembled by prolific modder Arthmoor.
The patch is designed to be as compatible as possible with other mods. If you've got a few hours, you can read through the patch notes.
Achievements Mod Enabler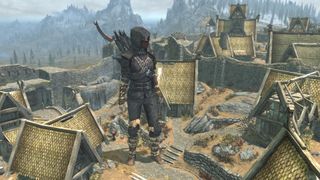 Just because you're modding doesn't mean you're cheating (necessarily). So why does the SSE disable achievements if you've got mods running? Stick it to 'em by using this plugin from xSHADOWMANx that allows you to earn achievements even while using mods. Note: this mod needs to be manually installed—you can't use the Nexus Mod Manager. Make sure you read the instructions carefully.
Static Mesh Improvements
While the SSE adds plenty of enhanced visuals, it doesn't do a thing to improve the original game's low-poly meshes. This mod edits hundreds of 3D models placed in thousands of different locations for items like furniture, clutter, architectural elements, and landscape objects to make them look nicer and more realistic.
Total Character Makeover
Skyrim's NPCs already looked dated when the game was first released, and they certainly haven't aged well. The SSE might improve the looks of the world, but it doesn't touch its citizens, so this mod from Scaria should be on your list. It gives everyone in the game (including your avatar) a facelift with more detailed textures that won't kneecap your framerate, and without making characters look out of place.
True 3D Sound for Headphones
"This mod enables true 3D sound for Skyrim SE by using a so called HRTF to simulate binaural hearing using normal stereo headphones. You will hear exactly from which direction a sound is coming from." I don't know exactly what that first sentence means, but I understand the second one. Make the SSE more realistic for your ears with this mod from CptYouaredead.
You also might want to check out Immersive Sounds.
Frostfall and Campfire
Download link (Frostfall)
Download link (Campfire)
Looking to turn SSE into a survival experience? Then bundle up and look no further. These mods from Chesko make the frosty world of Skyrim more dangerous yet more immersive and enjoyable with a system that makes you manage your temperature in the cold climate. Hypothermia is an issue, especially if you swim through icy water, so you'll have to dress warmly, and camping elements include craftable tents, torches, and other gear. There's even a crafting skill system.
Also, check out Wet and Cold, which adds weather-dependent visual effects and sounds.
Cutting Room Floor
Another big mod from Arthmoor restores loads of content that exists in SSE's data files but wasn't implemented in the game. Numerous locations, NPCs, dialogue, quests, and items have been brought into the light, and the game is richer for it.
The Forgotten City
Skyrim's got lots of adventure, but here's about 10 hours more courtesy of writer and developer Nick Pearce. Play detective and solve a murder mystery while exploring a massive, ancient city. It's got excellent, award-winning writing, a non-linear story, fantastic voice acting by a large cast, an enjoyable original soundtrack, and even a touch of time travel.
Ars Metallica—Smithing Enhancement
Unless you're playing as a metal-plated tank who swings an enormous two-handed sword around, there's not a lot of use for smithing. Archers, thieves, and other stealthy characters have no issues finding light armor on their adventures, so there's never been much reason to make it themselves. This mod by Arthmoor gives slippery sorts reasons to learn smithing, by letting them forge arrows, lockpicks, and guild-specific armor, as well as melt down bulkier armor they'd never actually wear into ingots.
Nexus Mod Manager
For downloading, installing, and managing these mods and others, we recommend the Nexus Mod Manager. It's an extremely useful utility, and it works with a number of other games like Fallout 3 and 4, The Witcher series, the Darks Souls games, XCOM 2, and lots more.