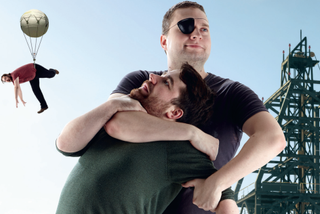 It's all over...
Each issue, the PC Gamer team comes together in the spirit of the '90s, and celebrates the fact that we still have an art editor. The result is what we call "All Over"—a joke back page relating to something from one of the preceding 129 pages. Depending on your perspective it's either a fun closer, a complete waste of time, or—if you're our editor Samuel—a living deadline nightmare from which there is no escape.
To celebrate 2015's imminent demise, we've collected all thirteen of this year's All Overs into this gallery. We thought it would be fun to run them alongside a sort of director's commentary from the team. As it turns out, "fun" was the wrong word.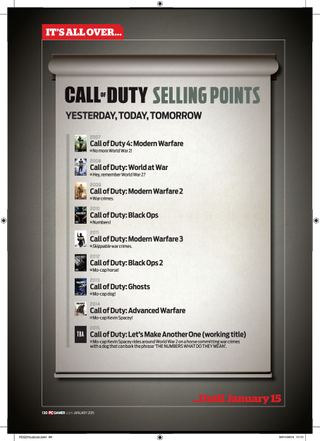 January 2015: Call of Duty – Advanced Warfare
Chris: It is really hard to write jokes about Call of Duty that haven't been said a million times. Here, I fail.
Phil: Who would have guessed that the correct answer was mo-cap Jeff Goldblum?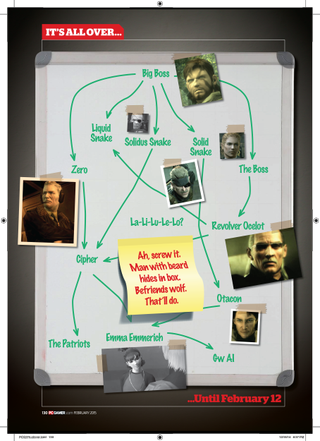 February 2015: Metal Gear Solid V
Andy: If Rust Cohle from True Detective was obsessed with labyrinthine Metal Gear Solid lore instead of occult-related killings, he'd have this hanging up in his creepy garage. Anyone familiar with the MGS storyline will know that these connections actually kinda make sense.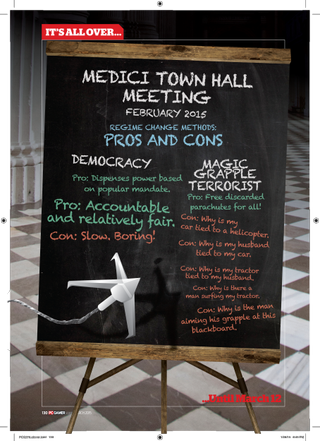 March 2015: Just Cause 3
Chris: The key to producing an All Over in an hour and a half while Sam looks at you like he's about to collapse inwards like a dying star is finding a joke that is basically just writing with one visual flourish. I had no idea how to make it look like there was a grappling hook flying towards a whiteboard that you could also read, but I asked our designer to do that anyway and they did. I quite like this one.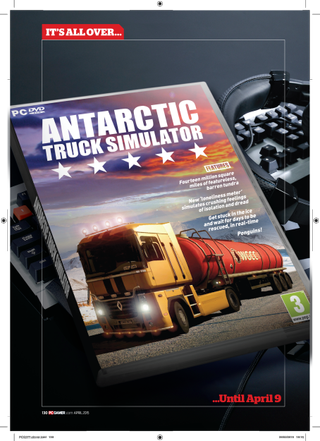 April 2015: American Truck Simulator
Phil: What we've done here is create a pretty good pitch for a game.
Chris: Antarctica: the wacky continent that you can make jokes about because nobody is there.
Andy: When we came up with this joke, we thought, what would Euro Truck Simulator be like if it was, in fact, set in the Arctic? And then we made John mock it up in Photoshop. It really was that simple.
Chris: Slow down Andy you'll ruin the magic.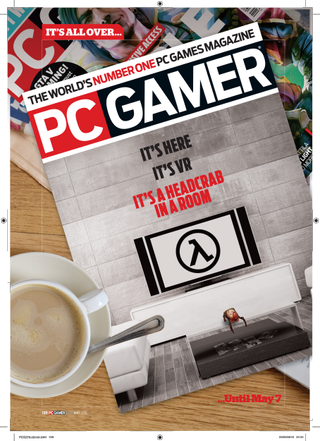 May 2015: SteamVR
Tony: Making it look like a mocked-up desktop: always a sign of desperation.
Chris: I thought 'mocked up magazine cover' was the bigger sign of desperation. (This is both.) Also: first time I made a joke about Half-Life 3 on the back page, I got abuse from random people on Twitter and Reddit for a week and a half. I got no abuse this time, which I take as a sign that we weren't baiting the internet hard enough.
Phil: At least it isn't 'found memo with a coffee stain on a desk,' which was roughly 80% of 2013's All Overs.
Chris: There's literally a cup of coffee, though. The stain is implicit.
Andy: I don't get it.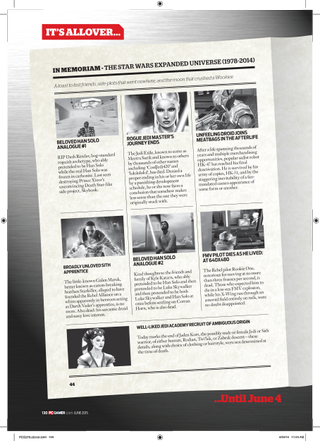 June 2015: Star Wars (Various)
Phil: This reads to me like Chris working through his issues with the Star Wars franchise, which is as good a reason for a back page joke as any.
Chris: This is the thing. I've worked through all of this stuff so many times that I can now produce keening Star Wars listicles on command, which honestly wasn't the X-Men mutant superpower I thought I'd end up with. In this instance, I use my powers for 'emergency eleventh hour bants.'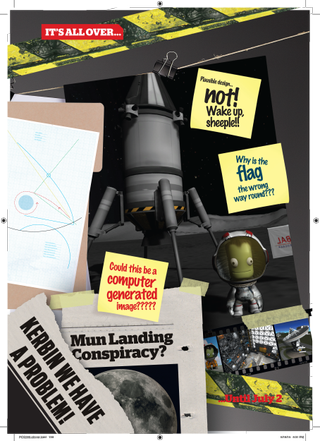 July 2015: Kerbal Space Program
Chris: Internet conspiracy theorists are low-hanging fruit. I like "why is the flag the wrong way around", though. There aren't enough jokes about glitchy texture mapping.
Tony: The Post-It notes were supposed to be handwritten. Who the cock prints their Post-It notes?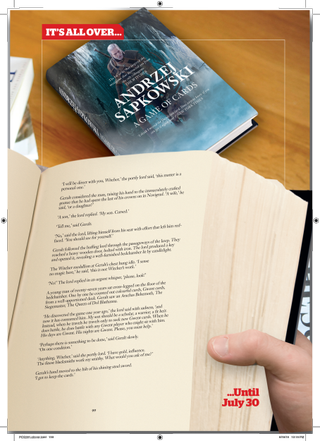 August 2015: The Witcher 3
Chris: I re-read some Witcher short stories so that I could ape Andrzej Sapkowski's writing to make a joke about Gwent. This is called 'trying too hard', if you were wondering.
Andy: I don't understand Gwent, and barely touched it when I played The Witcher, so this joke was lost on me. Sorry, I sound like I'm doing one of those director's commentaries where a bored star makes pedestrian observations about the film.
Samuel: CD Projekt RED emailed me asking about this one, wondering what we were teasing for our next issue. I think this is a fun celebration of one of the year's best games.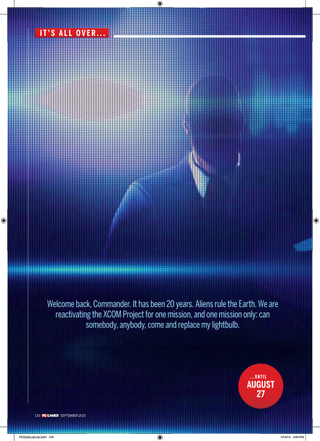 September 2015: XCOM 2
Chris: This is, I realise, a dad joke, and I am sorry.
Phil: This is one of the few times this year that a community posted a scan of the page and assumed it meant some big reveal was incoming. At least no one got death threats this time.
Samuel: Chris insists this was a good joke, other people liked it and it looks pretty, but it's not my favourite.
Phil: That was a very diplomatic sentence Sam.
Andy: This is my favourite of the lot.
Chris: SEE? Fuck you, Sam.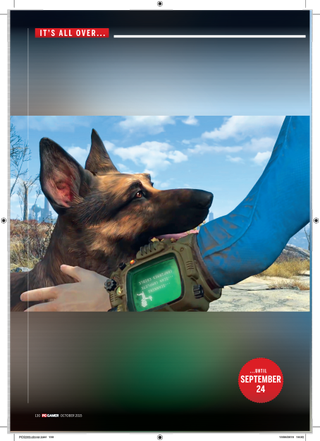 October 2015: Fallout 4
Tony: I like this one because it's mine, but my abiding memory is of giving the art bod a nervous breakdown because we had about five minutes left to send it and he couldn't grasp the concept of 'abstract backdrop'.
Samuel: I think this is a good joke, but it came together in literally the last 20 minutes of us sending the issue to press. I feel a mixture of a hangover and drymouth looking at this. My heart beats twice as fast when I look at it. Still, I would eat that tasty dog.
Andy: The original idea for this month's All Over was to make up a bunch of amusing Fallout perks, but we remembered we did that already around the time Fallout 3 was released.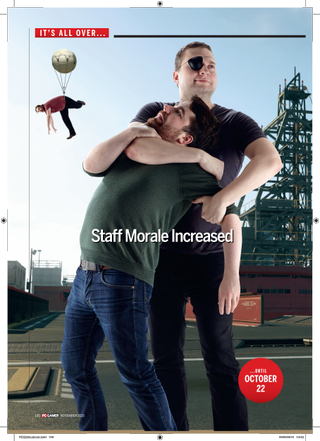 November 2015: Metal Gear Solid V
Samuel: Andy Kelly wouldn't let us put him on a balloon (because it violates his serious personal brand and Twitter persona) so we used Phil instead. This is the best one we've done while I've been working on PC Gamer. I look absolutely fantastic in an eye patch and it got a good reception when we put it on Twitter, too. We made a professional photographer get the lighting just right for our stupid joke. Chris was good at acting like I was choking him, but I insist that we're good mates IRL.
Chris: I feel like I'm selling this strangling thing harder than Sam is, but then again I suspect that if Sam were ever to actually choke me out he'd do it while blissfully staring into the middle distance, so I guess we're both right.
Andy: My lawyers felt that my personal brand would be irreparably damaged if I agreed to be suspended from an imaginary Fulton balloon. I took their advice.
Phil: There was a point in photoshoots where I felt shame, but that disappeared around the time—a couple of years back—that I was playacting DayZ scenes with a banana in my pocket. I went on to use this picture of me being carried away by a fulton balloon as my official GMA awards headshot. It got a bigger laugh than the night's 'comedy' entertainment.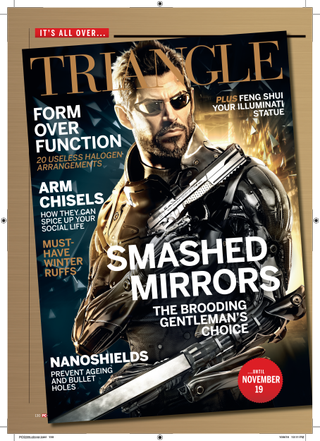 December 2015: Deus Ex – Mankind Divided
Phil: Our art editor, John Strike, is the hero of All Over. Here, a day or two before deadline, we asked him to produce a front cover for a fictional fashion magazine.
Tony: Agreed, this is pure class. Let's hope John doesn't get poached by Marie Claire.
Phil: I don't think Marie Claire would let him play Battlefield at lunch, so hopefully we're safe.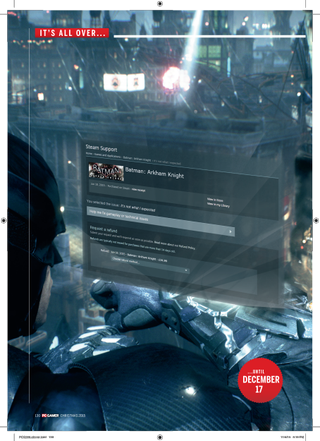 Christmas 2015: Batman – Arkham Knight
Samuel: We photoshopped the Steam refund screen, but I worried that because the date of purchase would be wrong, it wouldn't work properly as a joke. Then I realised this was deadline madness kicking in and who cares because why would Batman even be on Steam.
Andy: I took that screenshot of Batman using his wrist-phone in 4K, which was nice and high-res so it would look sharp on the page, but made the game run at about 1 frame per second. If you thought it ran poorly in 1080p…
Phil: We internally beta test All Over jokes by showing them to a member of the team, and measuring their response. If it's a light chortle—or even just a sharp exhalation of breath through the nose—then it's deemed acceptable. For this All Over, Tom Senior just looked at it for about two minutes not understanding what was going on. It was deadline, though, so we shipped it anyway.
Chris: I know I don't work on the mag any more, but have we considered renaming the section 'Oh, Fuck It'?